NTL VOLLEYBALL: CANTON POSTS HISTORICALLY GOOD SEASON IN 2021
(2021-11-29)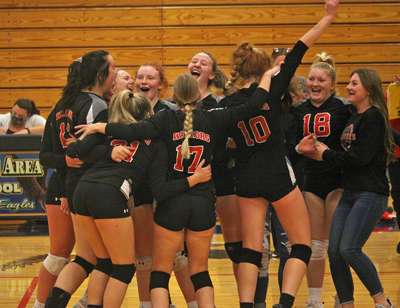 Northern Tier Sports Report
Canton volleyball had one of their best seasons in school history, which is saying something for a team that won their fifth straight District IV, Class A title in 2021.
The Warriors would get to the final four for the first time since they were state runners up in 2002, along with grabbing another NTL Division-II championship.
All that from a team that had lost nine players to graduation from the year before.
"There are no words that can express how proud I am of these girls, and what they have accomplished this season," said longtime coach Sheila Wesneski. "They all have taken Canton volleyball to a level that nobody expected, and how now left their mark in Canton volleyball. Way to go girls - thank you for allowing me the honor of coaching you."
The Warriors opened with a mixed performance at the Williamson Volleyball Tournament, but then rattled off five straight match wins - all sweeps - including victories over Towanda, Athens, Wyalusing and Wellsboro.
They lost a 3-2 heartbreaker to NP-Liberty, a match they were winning 2-1, but followed that up with four straight 3-0 victories, including a win over district qualifier Williamson.
Their second loss came at Williamson, 3-2, but they followed that up with four more wins - all of them 3-0 - before losing their regular season finale at home 3-0 to NEB.
They finished the regular season 13-3, but fell to the second seed in the district playoffs. From there, they fended off a strong challenge from NEB in the semifinals, pulling out a 3-1 victory, then edged Galeton 3-2 in the district final.
In state play they swept Blue Ridge in the opening round, before rallying from a 2-1 deficit to beat Berlin-Brothersvalley 3-2 in the quarters. In the semifinals they lost to Sacred Heart 3-0.
Aislyn Williams came into her own during the season, and earned the NTL Player of the Year honors. She finished with 188 kills, 34 blocks, 161 digs, and 36 assists, while Jillaney Hartford chipped in with 108 kills and 35 blocks.
Keri Wesneski stepped into a strong varsity role as an outside hitter with 99 kills, while being second on the team with 171 digs.
Seniors Rachel Martin (69 kills, 75 digs) and Trisha Gilbert (61 kills, 104 digs) provided stability and leadership.
Stepping into new roles were Allyson Butcher and Marissa Ostrander. Butcher took over the setting, with 416 assists, and 132 digs, while Ostrander was the libero, getting 183 digs.
They will have to replace Martin and Gilbert's on and off the court production for 2022, but they return this year's core team, and will once again be formidable in the foreseeable future.