NTL GIRLS' BASKETBALL: MANCHESTER'S NEAR TRIPLE-DOUBLE HELPS TOWANDA DOWN NPM
(2022-01-07)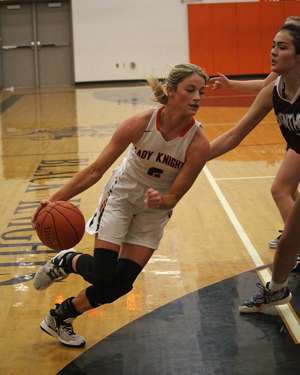 Northern Tier Sports Report
MANSFIELD — Towanda jumped out to a 25-2 first quarter lead en route to their 43-19 win over NP-Mansfield during NTL Division-I girls' hoops action on Friday.
Paige Manchester nearly had a triple-double with 20 points, 10 boards, eight steals, and five assists, as Porschia Bennett returned to the line-up with 13 points, five steals, and five boards.
Eliza Fowler notched five points, with Bella Hurley scoring four. Gracie Schoonover chipped in with one point, 12 boards, and four blocks.
Five different Knights scored in their big first quarter, but it was fueled by Manchester (12 points) and Bennett (eight points). They would push their lead to 34-6 in the second quarter thanks to four from Manchester, and three from Bennett.
NPM would actually out score the Knights in the second half, 13-9, but it wasn't close to enough to overcome the deficit.
Towanda will next be in action on Tuesday as they head out west again, this time to Wellsboro.