NTL GOLF: WYALUSING COMES IN THIRD AT HOME MATCH
(2022-09-21)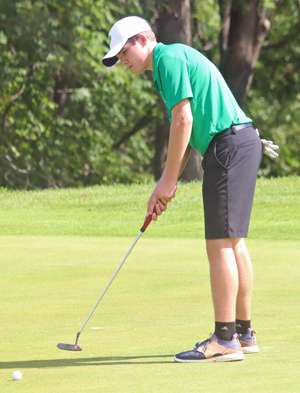 Northern Tier Sports Report
TOWANDA — Wyalusing came in third at Towanda Golf Club during their NTL home match Tuesday.
The Rams shot 362, behind Athens (347) and Wellsboro (357). The Wildcats clinch their second straight NTL crown.
NPM (381) was fourth, followed by CV (391), Towanda (439), and Sayre (463).
Nick Salsman shot an 85 to lead the Rams good enough for fifth place overall, while teammate Brody Fuhrey's 86 was sixth. Salsman had a birdie on the par-4 seventh hole.
Conner Smith shot 95 for the Rams, with. Hunter House carding a 96. Kaeden Kusmierz added a 100 with a birdie on the par-4 12th hole. Trehnon Hugo rounded out their golfers with a 110.
Wyalusing will return to action on Monday at Tomasso's for the final NTL match.
— —
PHOTO CAPTION: Wyalusing's Nick Salsman putts on the 12th green…PHOTOS BY CHRIS MANNING