NTL VOLLEYBALL: CANTON EDGES BERLIN BROTHERSVALLEY 3-2, REACHES STATE SEMIS
(2021-11-13)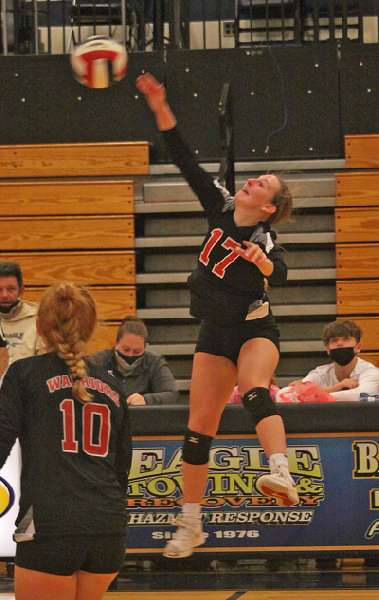 BY CHRIS MANNING
Northern Tier Sports Report
BELLEFONTE — Down 3-6 in the fifth set Canton was on the brink of seeing their season end. But they'd been there before, just a week earlier in the District IV final against Galeton. They weren't ready to see their season end then, and they weren't ready to see their season end on Saturday against Berlin Brothersvalley. The Warriors outscored the Mounties 12-7 the rest of the way to win the deciding set 15-13, and the match, 3-2 to advance to the PIAA, Class A volleyball semifinals.
"It feels really good," said Keri Wesneski. "It's something I've wanted to accomplish for a while."
It was a match filled with plenty of highs and lows - rallying to win the first set 26-24 after falling behind 8-4 was a pretty big high, but then losing the next two sets, including the third 25-10, saw them as low as they'd been this post season.
But, they'd had their backs against the wall before, so this was nothing new. Down 2-1, they eked out a 25-21 win in the fourth set to force the deciding set that they took.
"They've been doing that, they don't want to give up," said Canton coach Sheila Wesneski. "They wanted to win, because they said we want to be in the gym on Monday."
Canton had a slight edge in kills, 36-34, and nearly doubled up the Mounties on aces, 15-8. Berlin Brothersvalley had a hard time with Canton's serving, particularly their flat serves.
"Some of them were really struggling with them, which helped us a lot," said libero Marissa Ostrander.
The serve has been a big weapon for Canton all post season.
"Knowing that my serve can help tear down their defense, and bring us up a little bit more, it really encourages me to focus on the spots I want to hit," said Wesneski.
Aislyn Williams had 12 points, two aces, 13 kills, 14 digs, and a block for the Warriors, while Wesneski added 10 points, two aces, 12 kills, and 17 digs.
The seniors had big days serving, as Rachel Martin had 16 points, to go with two aces, two kills, one assist, and five digs, while Trisha Gilbert had 15 points, four aces, three kills, an assist, and seven digs.
Ostrander notched 15 points, three aces, three assists, and 14 digs. She also served out five straight points in the fifth set to take Canton from a 2-point deficit to a 3-point lead.
Jillaney Hartford added five kills, and a block, while Allyson Butcher had 29 assists, 19 digs, 11 points, two aces, and a kill.
The Mounties had trouble passing throughout the match, but when they could set up their hitters, they were formidable. Middle hitter Jennifer Countryman, and outside hitter Lynndee Ickes, in particular, could cause problems for Canton.
Right before the match started Canton could feel the weight of the moment a little bit. They'd been tripped up in the state quarterfinals the last two years, including a loss to Berlin Brothersvalley back in 2019 in the quarters.
"They were nervous," said Wesneski. "One of the girls even said, 'I'm kind of intimidated by the size of that team.'"
That showed early as Canton fell behind 8-4 in the first set. Despite getting two kills from Hartford during that stretch, they struggled to pass and defend.
However, three straight Warrior kills - two by Williams, and one from Wesneski - cut it to 8-7.
It was back and forth for a few points, until the Mounties rattled off three straight to retake a 4-point lead, 13-9.
They would hold a 4-point lead to 15-11, but that's when Canton made their move.
It started with a Williams kill, followed by two missed kill attempts from the Mounties. Back to back aces from Gilbert put the Warriors ahead 16-15.
Berlin Brothersvalley would score the next two points - one on a tip kill from Countryman - to retake the lead 17-16.
A Wesneski kill would knot things back up at 17-all, and the nip-and-tuck continued from there.
Countryman had another kill, followed by Wesneski terminating the ball to make it 18-18. A Butcher ace would put Canton up 19-18, but three straight points from the Mounties saw them take a 22-19 lead.
A bad serve, followed by a Wesneski ace, made it 22-21. Berlin Brothersvalley got a push kill, but Williams kept it a 1-point deficit with a kill of her own.
The Warriors had some passing woes to put them on the brink, as the Mounties led 24-22, but that's when Canton scored the next four points.
It began with a Hartford kill to give them the serve back. A bad kill attempt from Berlin Brothersvalley tied it up at 24-24.
The Mounties then had a passing error on the next point off a sly push from Gilbert. Then, in set point, the Mounties had a swing into the net to give Canton the first set.
"I think winning the first set proved that we were capable," said Wesneski. "So losing the next two was like 'we know we can do it, we did it once. We just have to do it again.'"
Both teams came out cleaner to start the second set, with the ball going over the net five times during just the first point.
It was Canton, though, who settled in, scoring the first four points of the second set, punctuated with a Wesneski ace.
Berlin Brothersvalley cut it to 4-2, but Canton continued to roll, as Gilbert got a kill, followed by Williams hitting an ace to put them back up by four points.
They would extend their lead to 13-6 on a Williams kill.
That's when the Mounties showed they could rally, too. They began chipping away at the lead as Canton's defense began to break down. Two bad serves, and two bad swings later saw the Mounties cut it to 14-11.
An Ickes kill, followed by another Canton kill attempt that landed out, and a net violation saw Berlin Brothersvalley cut it to 14-13. An ace ended the six point run as the Mounties tied it up at 14-all.
A Wesneski kill ended the run, and she scored an ace to make it 16-14 Warriors. The two then traded points before Berlin Brothersvalley went on another run to tie it up at 17-all.
The Warriors would get one more lead in the second set off a bad Mountie serve, going up 18-17, but three straight points from Berlin Brothersvalley saw them take a 20-18 advantage.
A bad serve from the Mounties cut it to 20-19, and a Gilbert ace saw it tied at 20. However, a bad serve, followed by two swings that were out put Berlin Brothersvalley back up 23-20.
Canton would once again cut it to 1-point with a Wesneski kill, and a Mountie net violation, but a Countryman kill, followed by a Canton net violation, gave the Mounties a 25-22 second set win.
The third set was all Berlin Brothersvalley. Gilbert gave Canton a 1-0 lead with a kill, and the score was tied at 2-2, but then the Mounties rolled off five straight points to get to 7-2, and never looked back en route to the 25-10 win.
They had 10 kills during that set, five of them from Ickes, as they scored the final nine points.
How the fourth set started was huge for Canton, as they worked to build back their confidence. The Mounties relaxed a little bit, and it was enough for the Warriors to get back in the match as they took a 3-1 lead. It would be knotted at 4-4, but neither side could get more than 1-point ahead until 10-8, as a Wesneski kill, followed by a Butcher ace, broke an 8-8 tie. Another swing into the net from the Mounties gave Canton an 11-8 lead.
They would keep the lead, even extending it to 18-14, thanks to a block and a kill from Gilbert, a kill from Hartford, and an ace from Martin.
However, a Countryman kill ended that run, as they would cut it to 18-16.
A Wesneski kill began another Canton spurt, seeing them take a 22-16 lead. Berlin Brothersvalley cut the 6-point deficit to three, 22-19, but a Williams kill put the Warriors two points away from a fifth set.
After a Berlin Brothersvalley point Wesneski had a kill to make it 24-20. The Mounties would get a kill to cut it to 24-21, but Williams shut the door with a kill for the 25-21 win.
"We just tried our best to all work together," Ostrander said about bouncing back in the fourth set. "Keep our heads up, just work together on the court, and talk to each other as much as we could."
In the fifth set the two teams played to a 2-2 tie, until Berlin Brothersvalley jump out 5-2 thanks to a kill, a block, and an ace in that order.
A Butcher over the head push found the ground on the other side of the net to end that run, but a Countryman kill saw Berlin Brothersvalley go up 6-3.
Wesneski then got the serve back on a kill, putting the ball in Ostrander's hands.
"I was very nervous," she remarked. "But I kept my confidence, and I did my best."
Her first serve saw Berlin Brothersvalley put a kill attempt into the net to make it 6-5.
"After the first serve I got more confident as I kept going," said Ostrander. "I kept going, and tried my best."
The Mounties struggled with her serve, as they had another bad swing to tie it up to 6-6. Ostrander then had an ace, followed by a Williams kill, then another ace to see Canton take a 9-6 lead.
A net serve made it 9-7, but Williams came back with a kill to push the Canton lead to 3-points once again.
A bad attack from Berlin Brothersvalley made it 11-7, but Canton responded in kind with a swing that was out of their own to make it 11-8.
Back to back kills from Wesneski and Williams, though, put them two points away from the semifinals.
Berlin Brothersvalley had one more push left, as Chloe Broadwater had a kill to cut it o 13-9, followed by a defensive miscue from Canton saw it cut to 13-11.
After a Warrior timeout Kassidy Smith of the Mounties laid down a kill, followed by a Canton kill attempt that was out, saw the match tied at 13-all.
Then, it was two violations on Berlin Brothersvalley, that decided things. Their setter was called for a double touch, followed by a back row attack violation, gave Canton the 15-13 win.
"I was really excited, because it could have been our last game playing together," Ostrander said about the win. "We all came together and got the win. It's so exciting that we now get to go to the semifinals."
It'll their first appearance in the final four since 2002, when they were the state runners-up. They get the District I champions, Sacred Heart Academy, who beat Marian Catholic 3-1, next Tuesday, at Hazleton high school with a 6 p.m. start.
That leaves Canton just one day to prepare, but coach Wesneski isn't worried.
"Just like we have been doing," she said. "Playing our game. We'll just practice all our skills, and keep pushing away."
One aspect they know they'll be working on is defense.
"It's all about communication," said Ostrander. "We just need to learn to trust each other, and communicate."
After everything they've been through this postseason, trust shouldn't be a problem.
PHOTO CAPTION: Canton's Keri Wesneski goes for a kill…PHOTOS BY CHRIS MANNING