NTL VOLLEYBALL: CANTON TO FACE SACRED HEART TUESDAY IN STATE SEMIS
(2021-11-15)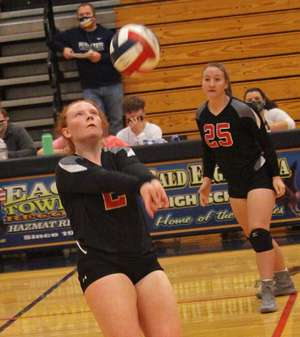 Northern Tier Sports Report
Canton is in uncharted territory today, as this is the first time they've reached the state semifinals since 2002. They'll face state power Sacred Heart Academy at Hazleton High School with a 6 p.m. start on Tuesday.
Sacred Heart may be 18-7, but boast some pretty big wins on the season, including a 3-0 sweep over District II power Holy Redeemer, and a 3-1 win over Marian Catholic in the state quarterfinals last Saturday.
Emily McKenna leads the team in kills with 211, to go with eight blocked shots, while Elizabeth Cuskey (137 kills, 22 blocks), Alessandra Albanese (112 kills) and Lilliana Hornickle (92) kills, with 25 blocks, are the other big hitters on the team.
They boast 314 aces on the year, led by 68 from Cusky and 63 from Cuskey.
Defensively, they have three girls with over 200 digs - Albanese (209), McKenna (209), and Bella O'toole (200) - while Annie Corcoran (141) and Macie Moresco (121) are also in triple figures.
Corcoran leads the team in assists with 537.