NTL BOYS' SOCCER: NOT THE SEASON TOWANDA WANTED, BUT THEY SHOWED IMPROVEMENT, NONETHELESS
(2021-11-17)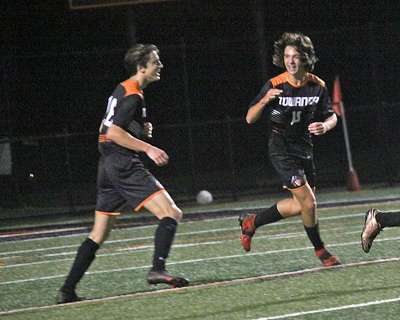 Northern Tier Sports Report
It wasn't quite the season the Towanda boys' soccer team was hoping for, but they made strides, nonetheless in 2021. They may have finished 2-17, but showed off a strong counter attack, while getting youngsters plenty of playing time for the future.
"I understand we are young," said Towanda coach Tom Lambert. "There were many positives this season from the 2020 year, where we had a total of 18 goals with only three guys scoring a goal. In 2021 we scored 33 goals with eight different guys scoring."
Logan Lambert proved to be a match-up nightmare for a lot of team, while freshman Jack Wheaton had a five goal game, as both players hit double figures in goals scored for the season.
They opened the year 0-4, though had a rough early schedule with the NTL's top programs - Athens and Wellsboro - back to back.
A 4-3 win over Williamson on the road, a team they beat last year, saw them gain some momentum. Three games later they picked up their next win, a 4-1 victory over Galeton to improve to 2-6.
After that, though, they finished the year 0-11, though they played a close game with playoff bound NP-Liberty, falling 5-4 at home.
They showed off a potent offense, being shutout just five times on the year, while having seven multiple goal games.
They lose three three seniors, including goalie Austin Fowler, but return the majority of their starters.
"I am very hopeful, as long as this team sticks together, through the year we will accomplish more 'W's' than this program has seen in years," said Lambert.