NTL GIRLS' SOCCER: TROY FINISHES ON TOP IN 2021
(2021-11-21)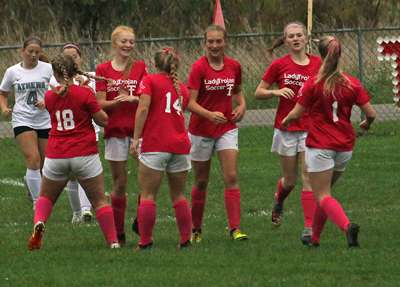 Northern Tier Sports Report
For Troy girls' soccer, 2021 was the year they knew the league could be their's - and it was. They were the out right NTL girls' soccer champions after sharing it a year ago, and finished in the top four in the District IV, Class AA standings.
"Reflecting back on our 2021 season really starts back in 2020," said Troy coach Wayne Pratt. "The 202 team had their sights on a championship, unfortunately, our opponent, Covid, train wrecked us when half the team was out for two weeks when the school shut down. 2021 we came back with the same goals, same personnel (with the exception of one) and the drive as a team to obtain the goals."
The Trojans finished the season 14-4, at one point winning nine straight matches, for their first outright title since 2010.
"We had a stellar defense with Molly (Davison), Emmi (Ward), and Grace (Sherman), to solidify the best defense in the NTL," said Pratt. "They protected the shots our freshman goalie Maddie Seeley would see. Our midfield (Taylor Williams, Camille McRoberts, Caelyn Pine, Anneliese Getola, Alexis Baldwin, and Lacey Hinman) were able to communicate early, and make changes to control the midfield. With them controlling the midfield, our offense of Makenna Matthews, Addy Parker, Morgan May, and Terilyn Barrett were able to run. These ladies, with an abundance of support behind them, is what allowed us to be competitive all year and capture the NTL."
They opened the year going 1-1 at the Montoursvilel tournament, then picked up two big NTL victories - 1-0 to a pesky Wyalusing side, and 4-1 over a revamped Williamson team.
They then lost to Athens on the road, 3-2, after leading 2-1 at the half. It was their only league loss of the season.
They recalibrated after that, going on a 9-match win streak that included a 5-3 win over Athens at home, a sweep of NEB, a sweep of Wellsboro, a 5-0 win over Towanda, and a 1-0 non-league win over Muncy.
They would lose to Jersey Shore on the road, but won their final two matches over NP-Mansfield and Towanda. Their season would end with a playoff loss to Bloomsburg, the defending state champions.
"The NTL as a whole was exciting this year," said Pratt. "There was no run away team for the crown, and on any given night just about any team had that chance at victory regardless of foe."
Parker established herself as one of the top goal scorers in the league with over 20 goals on the year, while McRoberts developed into a top midfielder. Ward once again solidified their defense at sweeper, and was named the NTL Player of the Year.
The fact that all three of them come from Canton as part of their co-op shows just how fruitful the alliance between the two rival schools has been.
Looking ahead to 2022, though, there will be some big holes to fill up and down their side.
"Next year will be a challenge for us to rebuild, losing seven ladies to graduation," said Pratt. "I am confident with the returning players, young gals coming up we will continue to compete on any given night. We lose the entire starting defense, however, as we have learned, it is just another hurdle for us to get over."