NTL BOYS' BASKETBALL: VETERAN WYALUSING EXCITED FOR SEASON
(2021-11-23)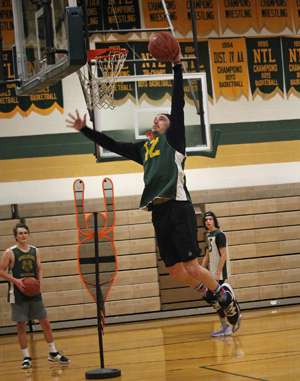 Northern Tier Sports Report
WYALUSING — The Wyalusing boys' basketball team was abuzz at practice on Tuesday. The Rams come in with several returnees from last year's team that won a district title.
"We've worked hard the first week in, and I'm really excited to see where we can go," said Wyalusing coach Brent Keyes.
They're overflowing with players as they work not just for this season, but also continue to build for the future.
"Numbers are up, especially with our JV kids, our younger kids," said Keyes. "It's definitely a good problem to have. The program's had some success, and we're getting some kids that have been in the program since we started the youth program, so it's definitely a good thing."
PHOTO CAPTION: Wyalusing's Isaiah Way goes up for a dunk during practice…PHOTOS BY CHRIS MANNING.