NTL WRESTLING: TROY LOOKING TO HAVE BOUNCE BACK SEASON
(2021-11-24)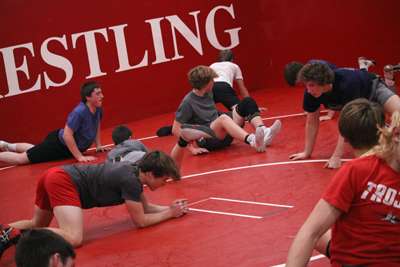 Northern Tier Sports Report
TROY — Troy wrestling was back in the mat room before Thanksgiving on Wednesday, with a revamped roster featuring 20 wrestlers.
"We're more excited for a full season," said coach Brandon Spiak. "The way last year was, it was just tough to keep everybody interested, so it's nice to start on time."
A bigger roster gives Spiak a little more flexibility for the upcoming season, but he has to sort his line-up out first.
"We've got a few at the same weight," he said. "We should, hopefully, fill out a line-up."
PHOTO CAPTION: Troy wrestlers do a drill…PHOTOS BY CHRIS MANNING.