NTL FOOTBALL: CANTON READY FOR OLD FORGE IN STATE QUARTERS
(2021-11-26)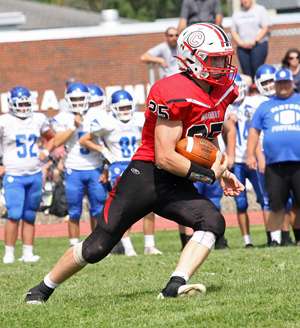 BY CHRIS MANNING
Northern Tier Sports Report
It's Thanksgiving week, and, while for most areas that means NFL and college football, for Canton, that means playing Old Forge in the PIAA, Class A quarterfinals on Saturday.
"This has been fun," said Canton coach Tyler Sechrist. "It's a different kind of week with half days, and no school."
They had practice Thanksgiving morning as they try to keep things as 'normal' as possible since football teams are creatures of habit.
However, keeping with the holiday's theme, Sechrist noted that they're glad to be among the top eight in the state.
"We're grateful to be in the quarterfinals," he said. "Old Forge has a great program."
Fans might get a little whiplash down at Danville High School, though, as the Blue Devils are a completely different team than the Rollers.
"They're a lot like us," Sechrist said. "They run the ball, their line is very good. Not nearly the athletes or the speed that Steelton has, but they're more physical. It's like playing a totally opposite team."
The Blue Devils beat Williams Valley 26-7 last week, gaining 392 total yards of offense. Quarterback James Sobol was the engine behind that, running for 91 yards, including a 43-yard scoring dash, while also throwing for 140 yards and two touchdowns on 8-for-13. He did have two picks, too.
On the year Sobol has 1477 passing yards and 19 touchdowns, and 464 rushing yards and 10 scores.
On the ground Old Forge has multiple looks, with Hezekiah Deitz (722 yards, nine touchdowns), Josh Spindler (573 yards, seven touchdowns), and Casey Holzman (262 yards, five touchdowns).
Holzman also has 368 receiving yards on the season with four scores.
"Tackling is going to be big this week because they have a big fullback, a quarterback that likes to run," explained Sechrist. "He's good size. Tackling is, luckily, one of our strengths. We've got a lot of good wrestlers."
Canton did a good job with Steelton-Highspire, only letting the Rollers get extra yards a few times - though one was for a touchdown - as they held Steelton to 10 negative plays.
"Tackling low, and making that first tackle, and not letting them get extra yards will be big," said Sechrist.
The Warriors counter with their own 4-headed running team, led by Riley Parker (1,214 yards, 22 touchdowns). He is backed by Weston Bellows (633 yards, six touchdowns), Hayden Ward (525 yards, 10 touchdowns) and quarterback Cooper Kitchen (501 yards, 12 touchdowns).
Through the air Kitchen has 619 yards passing with seven touchdowns, and two interceptions.
Bellows also leads the team in receiving with 486 yards and four scores.
Canton's offense struggled some in the first half agains the Rollers, but found their groove in the second half.
"With the line we just need to get on our assignments more," Sechrist said. "We need to be on top of our game. We were pretty evenly matched with Steelton, then, in the second half, they were kind of worn down."
Ward leads the team in tackles with 84, including five sacks, while Michael Davis (48 tackles) and Brenen Taylor (48 tackles) are second. Caiden Williams leads the team in sacks with six.
The biggest difference will be the style of game. Steelton played fast, so there were going to be a lot of possessions for both teams. That may not be the case on Saturday, as both teams will try and hold the ball for long stretches.
That means any little mistakes will be magnified.
"We need to cut down on any mental mistakes, any assignment mistakes, and turnovers," Sechrist said. "Those are key things with a team this evenly matched."
The game will have a 1 p.m. kick-off at Danville High School Saturday. It will be cold and windy, so dress appropriately.
OLD FORGE
Player to watch: James Sobol, QB - A true multi-threat player, he is not only their biggest weapon, but also their most dangerous, as he can turn the game on a dime with one throw or run. Containment will be just as important as tackling against him.
Key to the game: Old Forge will need to take care of the ball. They got away with three turnovers against Williams Valley, but Canton turned four Steelton-Highspire turnovers into four touchdowns last week.
CANTON
Player to watch: Hayden Ward, RB, LB - Ward was everywhere defensively for Canton last week, and will need to be so again. He did a good job wrapping up legs, and anticipating plays, something that could be a big difference against a team that runs an offense on a schedule. Offensively, he didn't shine as much as others, but will have more chances against a team with less athletes.
Key to the game: Finishing off drives. Old Forge did a good job last week of keeping Williams Valley out of the end zone, one reason they were able to survive three turnovers. Canton can't get bogged down in the red zone, they need to come away with six whenever they get the chance.