NTL GOLF: TOWANDA SEES STRONG PERFORMANCES FROM SENIORS IN 2021
(2021-11-28)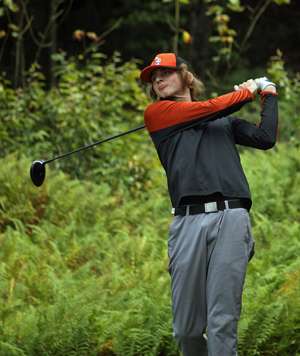 Northern Tier Sports Report
It was an up-and-down year for Towanda golf as they broke in a few new golfers, but saw two of their seniors post strong seasons.
The Knights went 13-28 in the NTL, with their lowest team score a 404 at River Valley, and a 407 at Towanda Country Club when they hosted in late September.
Ryan Elliott made the first team for all-stars, while Garrett Chapman was on the second team.
Elliott posted a 92.14 average to take fifth in the league, with a season low 87 at Towanda Country Club in late September. He was very consistent, with his worst score a 96 at Corey Creek, while he shot 91 once, 92 twice, along with a 93 and a 94.
Elliott also had a strong first day at districts, posting an 88 at Eagles Mere, the third best score from the NTL.
Chapman averaged a 94.57 on the year to finish ninth in the NTL, and snuck into the all-stars thanks to an 84 at Tomasso's, the last NTL match of the season. He also shot a 90 at River Valley.
Senior Anthony Intorcia was in-and-out of the line-up, but shot a 97 during their strong day at Towanda Country Club.
Underclassmen Jill Packard, Paige Perry, and Carson Glantz all got good experience during the year, as well.