NTL FOOTBALL: TROY CONTINUES STRING OF STRONG SEASONS IN 2021
(2021-11-28)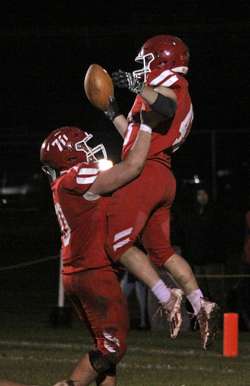 Northern Tier Sports Report
Troy posted another strong season, led by a stout defense and a tough run game, where, for the fourth straight year, they reached the District IV, Class AA semifinals.
They were in the NTL Division-I title hunt all the way to week 10, and allowed just six points per game over the first six games of the season.
They ran into some bumps in the second half of the year, and lost the Old Shoe in monsoon conditions, but still finished the year 7-3 in the regular season and 8-4 overall.
The Trojans opened the year with a 20-0 loss to Bald Eagle at home, then went on a five game win streak where they out scored opponents 145-21. The run began with a 12-0 win at Athens, then beat Central Columbia (35-7), NP-Mansfield (35-0) and Wellsboro (21-0) in successive weeks all at home. A 42-14 drubbing of Loyalsock on the road proved to be the high point of the season, a game where they ran for 562 yards as a team.
A penalty ridden loss to Sayre, 22-21, ended the run, but they would recover with division wins over Towanda (30-6) and Wyalusing (48-8).
They would then lose to Canton (36-0) during a game where they struggled to hold on to the football due to the rainy conditions.
The Trojans got revenge over Sayre with a 20-6 playoff win at home, then fell to Mount Carmel 35-7 in the district semifinals. A third quarter score cut it to 21-7, but the Red Tornadoes used a strong fourth quarter to pull away.
Senior Damien Landon went over 1,000 yards for the third straight season, including a 200 yard game in the playoff with over Sayre. For half the year he split time with Clayton Smith, who had 276 yards and three touchdowns against Loyalsock, but he suffered a season ending injury against Sayre. Quarterback Justice Chimics also had his moments under center, including a 100-yard rushing game against Loyalsock.
On the line longtime stalwarts Mason Imbt and Eli Crane anchored things.
Defensively, Kory Schucker, Mason Woodward, Imbt helped make Troy's defensive front one of the strongest in the area. Freshman Evan Woodward, along with veterans Gavin Cohick and Jayden Renzo keyed their pass defense.
Troy will say good-bye to Landon, Imbt, and Crane - all key players on their NTL championship team two years ago - but, by the end of the year, a lot of youngsters saw playing time.
They return Smith and Chimics on offense, and much of their defense, while their JV and junior high teams continue to shine, showing their future continues to be bright for the Trojans.