NTL FOOTBALL: CANTON DRAWS UPON EXPERIENCE TO SHOW OFF THEIR WINNING MENTALITY
(2021-11-29)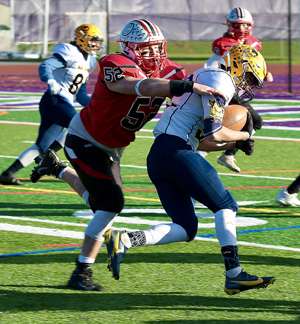 BY CHRIS MANNING
Northern Tier Sports Report
Through three quarters last Saturday it looked liked Canton's football season was going to end. While a 14 point deficit doesn't sound like a whole lot, it looms very large in a game where, through 35 minutes of play, a team hasn't scored a point.
The Blue Devils had shutdown their power run game, while on defense they seemingly moved the sticks at will behind the run/pass play of quarterback James Sobol.
Regardless, the Warriors weren't going to go down quietly. They bickered some right before the half, but were able to get a reset during the break.
"We talked about what was and wasn't working with us,"' said lineman Caiden Williams. "They were able to move the ball on us well defensively, and were able to stop us when we were on offense. We talked about what we needed to change, and how we could change it."
They also did their best to rally themselves emotionally. It's difficult to, essentially, roll through the entire season nearly unchallenged, then all of a sudden hit a brick wall.
"We just talked about how it's not over until it's over, and how we all stuck together, and never gave up," said quarterback Cooper Kitchen.
They drew on their past success as a blueprint for how to overcome their current predicament.
"We kept lifting each other up every play, and said 'we have scored twice this many points in nine minutes before,'" explained lineman Gage Pepper.
It takes some little things to go right before getting that big break when developing a comeback. The first thing they had to do was stop Old Forge from getting a third touchdown early in the fourth quarter, which would have effectively ended the game.
"We had to weather storm," Williams said about stopping Forge's drive. "We knew that they were a good team, and had the ability to create long drives like that, so we had to be able to endure them, and get the ball back."
Old Forge had a first-and-10 at the Canton 13-yard line, but the Blue Devil offense struggled when the field got shorter.
"We keyed on some big things they were doing, and when we got in the defensive huddle, a few of us said, 'it's now or never,'" remarked Pepper. "We buckled down, and just started playing hard nose football."
Old Forge would get inside the 10, but no further, as the possession ended with an interception by Austin Allen on fourth down. Canton would turn the ball over on a lost fumble, but their defense once again came up big, with Hayden Ward intercepting Sobol's pass on the ensuing possession.
The big turning point came on the next Warrior drive with Kitchen's 71-yard pass to Ward - who had less than 50 yards receiving coming into the game. But with Old Forge keying on top receiver Weston Bellows Canton did what good teams do - they adapt.
"They had good success shutting down the run, so we had to adjust, and spread the ball out some more," explained Kitchen. "Create some big plays to get momentum on our side."
The game was eerily similar to another big game they rallied to win - the 2020 version of the Old Shoe. What they did in the first game of the season last year helped them to win their most recent one.
"Last year's Old Shoe game definitely helped us with that," Williams said. "It taught us how to keep cool, and keep doing what we do. It takes a lot mentally to be able to come back from behind and win like that, so playing a previous game like that definitely helped us."
While there were key differences during the game itself - Canton actually led at the half - their final rally was eerily similar.
Troy scored their third touchdown of the second half to go up 28-12 with 6:28 left in the game. Canton would need to two touchdowns and two 2-point conversions to tie in roughly half a quarter.
Things were so bleak that even today the players admit they never though they would be able to win the game.
"We stayed all together as a team and never doubted the end result as we did last year in the Old Shoe," Pepper explained. "The only similarities from this game to the Old Shoe would be giving all my teammates a big hug at the end, and saying 'we did it.'"
Both rallies began with Kitchen taking to the air - against Troy he threw for 60 yards on their first scoring drive, ending with a 20 yard touchdown pass, while in the Old Forge game he threw for 83 yards, ending with a 12 yard touchdown pass. Both drives ending with Canton making it a one score game - 14-7 against Old Forge, 28-20 against Troy.
They also got big special teams plays - against Troy they recovered an onside kick, against Old Forge they had a punt block. The punt block set up the tying touchdown.
There were also moments where it looked like the rally might end. After recovering the onside kick against Troy, the Trojans forced them into a turnover on downs with an 8-point lead. Canton was without timeouts, and Troy could run out the clock.
Against Old Forge the Warriors blocked a second punt, but, as they were going into score, they fumbled it away to the Blue Devils.
However, they continued to persevere. Against Troy they caused another turnover, taking over inside the 30-yard line with roughly a minute to go. It took them just three plays to get the tying touchdown and send the game into overtime.
In the state quarterfinal game they ended Old Forge's final drive in regulation with a turnover.
By this point in both games the momentum had completely swung. Canton allowed both teams to go first to try and score, and their defense stopped them - forcing a turnover on downs against Troy, getting an interception against Old Forge.
When it was their turn they quickly scored to get the six point win.
"It was the same situation," explained Kitchen. "So we had been there before, and knew we wanted to be on defense first, as they had got the big spots all game, and had the edge - so we got that. Then, to get the ball, all we had to do was score, and Hayden had an amazing run to finish it off."
When coaches talk about being battled tested this what they mean. Experience breeds confidence, but it can also be a double edged sword.
Old Forge lost to Steelton-Highspire in a similar game in last year's state playoffs. Once Canton cut it to a one score game they were a different team. They'd been able to run the ball consistently, amassing 136 yards on the ground through three-and-a-half quarters - but only had five yards on the ground in the final seven minutes of play.
Canton's had their fair share of demons, too, namely in the form of the Muncy Indians in district title games. They were able to exorcise those devils this year, but the memories are still there.
However, when the game got tight, they drew upon their success against Troy, rather than their failures against Muncy. Past may be prologue, but players can still decide which prologue they wish to read from.
They'll need that experience as they face Bishop Guilfoyle this Friday in the state semifinals. The PIAA did them no favors, putting the contest in Altoona - where Bishop Guilfoyle is located - but over two hours away for anybody from Canton.
"We know that they're gonna pack the stands since it's so close to their home," Williams said. "So we've got to be able to play under that kind of pressure."
To their credit, they're not focusing on the things they can't control.
"We are going to treat it the same as any other away game," remarked Kitchen. "Have a good week of practice, get a good game plan together, and just travel there on Friday, and go out and execute rather than making excuses about where it is."
After their last two wins their confidence is sky high. They defeated the defending state champions, Steelton-Highspire, by willing their game on them, and they won over Old Forge, the top ranked team in the state, by making big plays, even when their usual game plan wasn't working.
"We are going to take the never quit mentality no matter what the score is, and be grateful we have this opportunity, and look to be in Hershey in two weeks," Pepper said. "Canton football has the biggest hearts in the state."