NTL GIRLS' TENNIS: TOWANDA'S RYCK PLAYER OF THE YEAR FOR BRADFORD-TIOGA COUNTY ALL-STARS
(2021-11-30)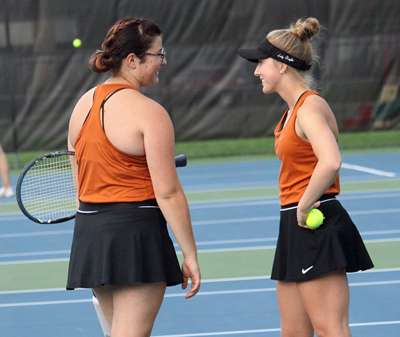 Northern Tier Sports Report
Towanda's Hannah Ryck continued her NTL dominance in 2021 as she went undefeated in regular season play for the second straight year, while her teammate, Hannah Risch, also played well, as the top rated second singles player in the league. That puts both on the All Bradford-Tioga County girls' tennis All-Star team.
Coach of the Year
Melissa Boyer, CV (9-4, 6-0 NTL)
Player of the Year
Hannah Ryck, Towanda, Sr.
Ryck went 11-0 for the 5-7 Black Knights in the No. 1 singles spot.
Hannah Risch, Towanda, Sr.
Risch finished the season 8-3 in the No. 2 singles spot for the Black Knights.
Paisley Nudd, CV, Jr.
Nudd, the Indians' No. 3 singles player, finished the season 7-1.
Hannah Nuss, Wellsboro, So.
The Hornets' No. 3 singles player finished 6-5.
Kara Watterson, CV, Sr.
Kari Doran, CV, Sr.
Both Watterson .. No. 1 singles .. and Doran .. No. 2 .. finished the season 3-5 for the Indians.
Marissa Griess, NP-Liberty, So.
The Mounties' No. 1 singles player finished 2-6 against the top players of every other squad this season.
Doubles Team of the Year
Logan Hamilton, So. and Janna Quick, Jr., CV
The Indians' No. 1 duo finished the season 6-2.