NTL WRESTLING: TOWANDA EXCITED TO BE BACK IN THE MAT ROOM
(2021-12-02)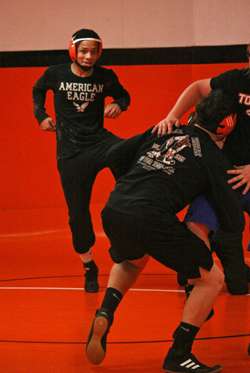 Northern Tier Sports Report
TOWANDA — The mat rooms in Towanda are buzzing again as they get ready for this year's wrestling season as they look to return to their former glory.
The Knights are back up in numbers with 29, nearly a third of which are freshmen from last year's dominant junior high team.
One person whose been absent, though, is long time coach Bill Sexton, whose been sidelined due to heart surgery.
"I had a medical issue in the last couple of weeks," said Sexton. "I had quadruple by-pass surgery. It came out of nowhere, but everything's going good. I'm getting better each day, and will hopefully be back here pretty soon."
He was able to see them for the first time on Thursday as he works his way back, and, so far, he likes what he sees.
"Our numbers are good again," Sexton said. "We've had a real good freshmen class, I expect maybe half of them in the line-up this year. We'll be young, but hopefully, with our experienced kids, will get our program where it needs to be."
PHOTO CAPTION: Towanda's Mykee Nowell goes through a drill…PHOTOS BY CHRIS MANNING