NTL GIRLS' CROSS-COUNTRY: ATHENS' BRONSON BRADFORD COUNTY ALL-STARS RUNNER OF THE YEAR
(2021-12-03)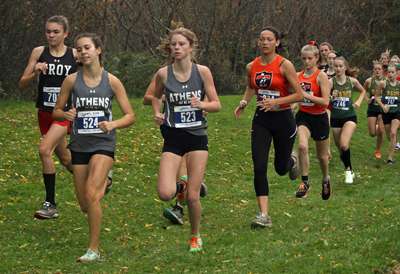 Northern Tier Sports Report
It was a wild NTL girls' cross-country season, with a big influx of talented freshmen giving the league a jolt.
Athens freshman Sara Bronson is the Runner of the Year, who was consistently at the top of the league. Troy freshman Alyssa Parks is the Newcomer of the Year after a strong dual meet season, and taking second at districts.
And the NEB coaching staff is the Coaching Staff of the Year, behind their NTL Division-II title, their second place finish at districts, and their top 10 finish at states. Their team was led by several freshmen.
The first team is Athens' Sara and Emma Bronson, NEB's Gracelyn Laudermilch, Lilah Hughes, and Melanie Shumway, Wyalusing's Kayla Beebe, and Parks.
The second team is Wyalusing's Kassandra Kerin and Laina Beebe, Towanda's Marisa Wise and Taylor Brennan, Troy's Julia Colton and Rachel Kingsley, and NEB's Amelia Kapr.