NTL BOYS' SOCCER: TROY'S HODLOFSKI HEADLINES BRADFORD COUNTY ALL-STARS
(2021-12-04)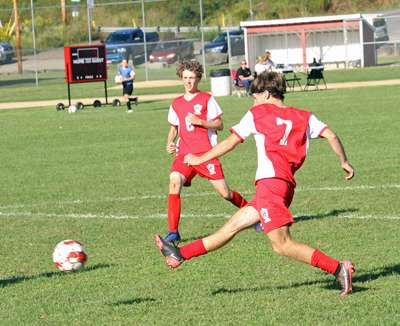 Northern Tier Sports Report
It was a wild and crazy NTL boys' soccer season, all the way through to the finish.
One of the bright spots was the play of Troy's Wyatt Hodlofski, leading a young Troy team with his goal scoring prowess - he had half his team's goals on the year - and is the Bradford County All-Stars Player of the Year.
Athens rallied late to take the league title thanks to the play from Offensive Player of the Year Nate Quinn, and Defensive Player of the Year Alex Campell. Their coaches, led by Jake Lezak, are the Coaching Staff of the Year.
Towanda had a goal scoring boom for them this year, with freshman Jack Wheaton in the thick of things as he had double digit goals. He is the Newcomer of the Year.
On first team offense is Quinn, NEB's Gavin Merritt, and Towanda's Logan Lambert, while the midfield is Hodlofski, NEB's Brandon Kuhn, and the Athens duo of Mason Hughey and Brayden Post.
The defense is Campbell, NEB's Joe Stanton, and Troy's Conner Foust, with Troy keeper Eli Randall the first team goalie.
The second team offense is Athens' Korey Miller, Wheaton, and Troy's Brady Spalding, with the second team midfield NEB's Josh Stanton and Cesar Alvarez, Towanda's Nate West, and Athens' Levent VanHelden.
On the defense are Athens' Tucker Brown, and Ryan Thompson, NEB's Andrew Beers, with Panther keeper Garrett Cooper the goalie.