NTL BOYS' BASKETBALL: CANTON'S FULL ROSTER TAKES THE COURT
(2021-12-07)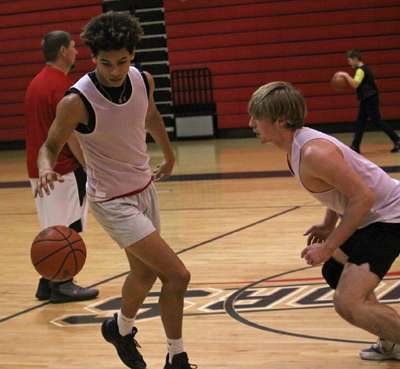 Northern Tier Sports Report
CANTON — It was the first day of basketball practice for Canton's football players on Tuesday as the team gears up for their opening season tournament in Galeton on Friday.
"It's going to be a big adjustment," Canton coach Brock Kitchen said about his football players going from one sport to the other. "I'm trying to be realistic. We've got a lot of guys whose bodies are worn out, going through 18 weeks of playing, so getting them into basketball shape is going to be a little slower start than usual."
It helps that a lot of their team was able to start practice when other teams did, so they aren't as far behind as they could be.
"Having Isaiah (Niemczyk) here, and Conner (Foust), those two will definitely start," remarked Kitchen. "Honestly, I've spent more time with my JV these first two weeks, because once these got here I wouldn't get much time with them. Those older kids have been very helpful trying to work with those guys, being coaches on the floor; it showed good patience by them I think."
One thing that helps is that numbers won't be an issue this real, having so many players that they sent a couple freshmen down to junior high, giving them up to 23 players between varsity and JV.
"I'm probably going to suit up 13 on varsity, and some of those will suit up JV, too," Kitchen. "We'll probably suit up a dozen on JV. It's good numbers."
PHOTO CAPTION: Canton's Isaiah Niemczyk dribbles as teammate Caiden Williams defends…PHOTOS BY CHRIS MANNING.