NTL GIRLS' BASKETBALL: CANTON LOOKING TO BE MUCH IMPROVED THIS SEASON
(2021-12-08)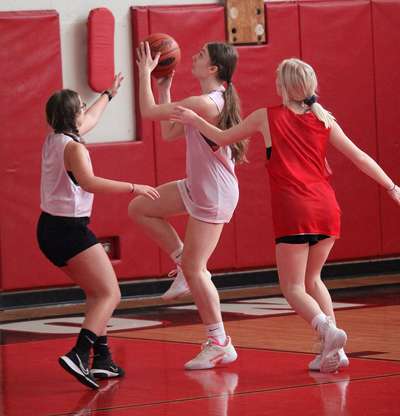 BY CHRIS MANNING
Northern Tier Sports Report
The 2021-2022 girls' basketball season resembles a fresh start for the Canton Warriors. They went 4-14 a season ago, but return several key players from that group.
"Last year was definitely a growing year," said coach Casey Aylesworth. "We had a lot of sophomores who were not necessarily ready to take the number one position, but now they're coming back as juniors. Some of the girls are going to be 3-year varsity starters as juniors, so they're definitely starting to become the leaders of the group, and I expect big things."
The starting backcourt of Aislyn Williams (7.5 points per game) and Emmie Tyemson (5.7 ppg) return, along with rebounding machine Molly Ward up front.
"Aislyn Williams will be a third year starting guard as a junior, she's going to be a point guard all the time," explained Aylesworth. "Kendall Kitchen, whose going to be an incoming freshmen, she's going to handle as well. They're definitely going to be able to help anchor that."
They didn't have an experienced ball handler last year, and it showed as they struggled to get into their offense. That's one area the Warriors know they have to improve upon.
"Ball control will always be important," Aylesworth remarked.
Williams was kind of thrown into the fire a bit last year with ball handling duties, but she's better prepared come this December.
"Going from basically a shooting guard as a freshman to a point guard as a sophomore is definitely challenging," she said. "Point guard is definitely not my strong suit, but that's another thing I hope to improve on this year, get more confidence because I feel more confident I'll be able to lead my team better."
With Kitchen on board to help out with ball handling duties Williams will also be looking to put the ball in the basket more, too.
"I definitely want to shoot the ball, and not just pass it," she said. "Make smart plays, get open, get my teammates open, play better defense - all proven aspects of the game."
Down low Ward (4.1 ppg) will be closing in on 500 rebounds for her career as a junior this season, but she wants to do more than just grab caroms.
"I've been taking more shots," Ward said. "And really, just try to get the ball to whoever's open, because that'll just give me a chance to get the ball some more, and even get more rebounds."
With starting center Regan Kelley graduating Aylesworth is looking for Ward to carry some of her scoring load this year.
"Over the summer we kept talking about how she needs to be more aggressive offensively," he said. "She can average 15 rebounds, but she's got to be better on the offensive side of the court, and put the ball back up."
One area they want to improve upon team wise is communication.
"We just need to talk better on the court," said Ward. "Not rush our plays, and make good basketball moves. That's the big thing this year that we're trying to work on is running our plays correctly. When we do that, our plays can be effective. We just need to make the right plays, and be smart about what we're doing."
Last year they started strong, winning three of their first four games, but it went downhill quickly from there. It didn't help that they had plenty of players miss action due to Covid-19, along with long stretches without practice due to school shutdowns.
This year, though, there's a renewed focus on the court to improve on last year's four wins.
"We have more chemistry, because we've been playing for a while, so, this year, it should flow better," explained Williams.
They showed last year just how good they can be when they nearly knocked off district power South Williamsport 36-32, so the capability is there, it's just a matter of bringing it out. And with NEB in the division, and teams like Southern Columbia and Mt. Carmel in the district, they'll need to be at their best to be competitive.
"So my goal is to take care of the ball, rebound, play hard defense, and whatever we do - win or lose - we'll be alright," Aylesworth said.
ROSTER
Emmie Tymeson (11) - 13
Natalie Kapichok (10) - 2
Alexis Baldwin (12) - 4
Aislyn Williams (11) - 12
Molly Ward (11) - 23
Carolyn Theron (11) - 21
Sarah Davy (11) - 20
Sammy Brackman (11) - 23
Jazmyn Hickok (11) - 3
Kimber Knecht (10) - 32
Kendall Kitchen (9) - 22
SCHEDULE
Dec. 13 at Meadowbrook Christian, 7:30 p.m.
Dec. 15 vs NPM, 7:30 p.m.
Dec. 17 at Athens, 7:30 p.m.
Dec. 21 at Wellsboro, 7:30 p.m.
Dec. 29 Canton hosts Tournament
Dec. 30 Canton hosts Tournament
Jan. 5 vs Sayre, 7:30 p.m.
Jan. 7 at NEB, 7:30 p.m.
Jan. 11 vs NPL, 7:30 p.m.
Jan. 13 vs CV, 7:30 p.m.
Jan. 15 vs Troy, 7:30 p.m.
Jan. 22 vs Montgomery, 2:30 p.m.
Jan. 28 at Wyalusing, 7:30 p.m.
Feb. 1 at Sayre, 7:30 p.m.
Feb. 3 vs NEB, 7:30 p.m.
Feb. 8 at NPL, 7:30 p.m.
Feb. 10 at CV, 7:30 p.m.
Feb. 14 vs Williamson, 7:30 p.m.