NTL GIRLS' BASKETBALL: TOWANDA LOOKS TO REMAIN DOMINANT ON THE COURT
(2021-12-08)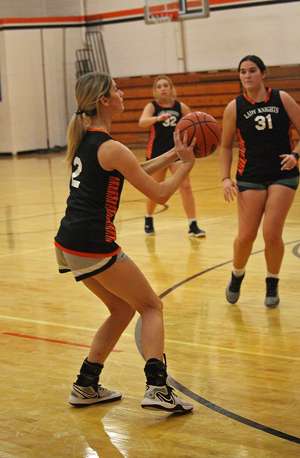 BY CHRIS MANNING
Northern Tier Sports Report
Armed with a long-armed backcourt, Towanda will look to, once again, be the class of the NTL in girls' hoops. They will be as big as ever, but will have to find a way to develop some depth in order to repeat, or improve upon, their success from last season.
"Fortunately for us, at the varsity level, everybody was here a year ago, and shouldn't have too many adjustments," said coach Rob Gentile. "We're not going to reinvent the wheel, but we got some big shoes to fill."
Last year's squad went 9-deep, with a plethora of shooting and big bodies down low, both of which will need to be redeveloped for this season.
"We lost a lot," remarked Gentile. "I know everybody thinks we've got these super talented athletes - and we do - but the truth is we lost a lot. Just the physicality, and the physical play, and experience, that those kids had a year ago, and the leadership that they provided."
The NTL Player of the Year Paige Manchester returns, along with one of the most devastating defensive players in the NTL in Porschia Bennett. They form the rare 6-foot backcourt that helped propell the Knights to an undefeated NTL season a year ago.
"Our goals are definitely the same as last year's," Manchester said. "We definitely want to try going farther in districts, and exceeding that."
Manchester can do it all at 6-foot tall - handle the ball, slash to the basket, find the open player, and hit jumpers. Bennett is one of the scariest defensive players in the district, using her length and quickness to swallow up ball handlers, snatch wayward passes, and is a one person fast break on offense.
After claiming the NTL Division-I title they lost to Loyalsock in the district semifinals, a game they led at the half.
"That taught us never to let off, because we let up a little bit in the third quarter," said Manchester. "Now we know how they play."
They also have some size up front, too, giving them three six footers - Manchester, Bennett, and Gracie Schoonover - in the starting line-up, plus another forward- Bella Hurley - who plays big.
"We actually have a lot of size here, and a lot of people that can play a lot of different positions," Bennett said.
That gives them the ability to play different styles - big or small, slow or fast - that was key to their success last year, though their athletic backcourt prefers to take things quickly.
"Everybody has to be able to run down the court fast," remarked Bennett.
Hurley and Schoonover will be stepping into starting roles for the Knights after coming off the bench a year ago.
"They know what we do and how we do it,"' Gentile said about his returnees. "So we've just got to work on getting better."
As sophomores both girls showed promise, particularly Schoonover, who will be one of the biggest players in the league whenever she steps on the court. She has some shooting touch to keep teams honest, while Hurley is a glue player who does whatever is asked of her - defend, rebound, make the extra pass, and hit the open jumper.
Guard Eliza Fowler will be called up from varsity, with other younger players expected to fill in the reserve roles.
"It can be intimidating," she said stepping into a new role. "But I think I'm ready. I think if we play as a team, we'll do really good."
Hurley echoed that sentiment, but felt they had enough of team chemistry to make it work. Regardless, she's been enjoying this mixing of veterans and newcomers.
"It's eye opening," she said about adding in some newer faces. "It's easy to teach younger kids how to play the game, and I love it, because I love basketball, and getting to share that experience with them is the best part of the game."
Both girls saw themselves as energy players a year ago, and they plan on keeping that title this season.
"We have to keep our energy level high," Schoonover said. "Always play together, and keep our heads up."
Going forward, they know that they'll be getting everybody's best, but they remain undeterred. Gentile expects that they will be able to do the same things they did last year - exploiting mismatches - that helped them go 19-2 during the regular season.
"Fortunately, we're versatile," the veteran coach said. "We got some guards who can play the post, we got some posters who can shoot the ball - a lot of things we can do."
Regardless, Hurley plans on cherishing her time on the court with her teammates.
"My teammates are my family," she said. "I appreciate them so much."
ROSTER
Varsity
Porschia Bennett (12) - 20
Destiny Brennan (12) - 3
Bella Hurley (11) - 22
Athena Chacona (11) - 52
Aziza Ismailova (11) - 10
Gracie Schoonover (11) - 45
Eliza Fowler (11) - 14
Paige Manchester (11) - 2
JV
Alonna Ayers (9) - 21
Melody Hakes (9) - 15
Deztine Matthews (9) - 11
Lexi Lamphere (9) - 5
Shaylynn Morris (9) - 24
Chaylee Kitchen (10) - 23
Kiara Charnock - 32
SCHEDULE
Dec. 13 at Berwick, 6:30 p.m.
Dec. 15 at Williamson, 7:30 p.m.
Dec. 17 vs NEB, 7:30 p.m.
Dec. 20 at Loyalsock, 6:30 p.m.
Dec. 21 at NPL, 5:30 p.m.
Dec. 28 vs Sayre at Valley Christmas Tournament 6 p.m.
Dec. 29 at Valley Christmas Tournament
Jan. 5 vs Athens, 7:30 p.m.
Jan. 7 at NPM, 7:30 p.m.
Jan. 11 at Wellsboro, 7:30 p.m.
Jan. 15 vs Wyalusing, 1:30 p.m.
Jan. 18 at Troy, 7:30 p.m.
Jan. 21 at Montoursville, 7:30 p.m.
Jan. 24 vs CV, 7:30 p.m.
Jan. 26 at Canton, 7:30 p.m.
Feb. 1 at Athens, 7:30 p.m.
Feb. 3 vs NPM, 7:30 p.m.
Feb. 8 vs Wellsboro, 7:30 p.m.
Feb. 10 at Wyalusing, 7:30 p.m.
Feb. 12 vs Sullivan County, 1:30 p.m.
Feb. 14 vs Troy, 7:30 p.m.
Feb. 16 vs Williamsport, 7:30 p.m.