NTL GIRLS' BASKETBALL: NEB JUMPS OUT FAST IN WIN OVER CANTON
(2022-01-07)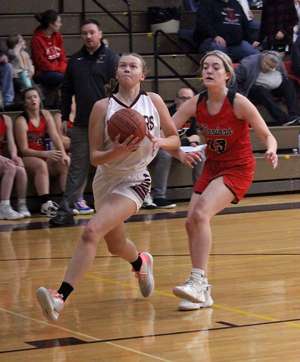 Northern Tier Sports Report
ROME — Maisie Neuber had 25 points, and NEB defeated Canton, 54-19, during NTL Division-II girls' basketball action Friday.
Neuber had big quarters in the first (seven points) and the third (12 points) to lead the Panthers.
Alena Beebe added 13 points - all in the first half - as Kayleigh Thoman need five. Emma Neuber chipped in with three points, while Kate O'Connor, Julia Brown, Anna Towner, and Lilah Hughes had two points a piece.
Molly Ward had eight rebounds for Canton, as Emme Tymeson grabbed five boards, with two steals. Carolyn Thoren had five blocks, as Kendall Kitchen grabbed four rebounds. Aislyn Williams chipped in with three assists.
NEB is at Sayre on Tuesday, with Canton hosting NP-Liberty.
PHOTO CAPTION: NEB's Maisie Neuber goes up for a lay-up as Canton's Emme Tymeson trails on Friday…PHOTOS BY CHRIS MANNING