NEB JUNIOR HIGH GIRLS TAKE 2ND AT WYALUSING TOURNAMENT
(2022-01-09)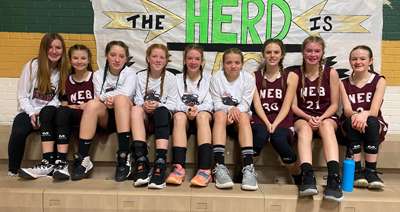 Northern Tier Sports Report
WYALUSING — The NEB girls' basketball 7th and 8th grade team finished off their season with a second place finish at the Wyalusing Tournament over the weekend.
They won their first game 25-22 over Towanda on a Mallori Maynard 3-pointer at the buzzer, then defeated Blue Ridge (57-36) and Williamson (33-12). In the finals they lost to Susquehanna 30-29.
Towanda took fourth on the day, while Wyalusing, and Canton also competed in the eight team tournament.
Leah Beebe had 64 points during the tournament - including a career high 27 against Blue Ridge - to go with 18 rebounds, 18 assists, and 15 steals.
Ava Hughes had eight points, six rebounds, one assist, and four steals, Maynard had 26 points, two rebounds, two assists, and nine steals, and Katrina Russell had 10 points, 24 rebounds, one assist, and two steals.
Aurelia Kolesar finished with 26 points, 21 rebounds, one assist, and two steals, Kara Dughi had eight points, and six rebounds, Sara Gray finished with two points and a rebound, and Mackenzie Clark added a rebound, an assist, and a steal.