ON TAP TODAY: A FEW HOOPS GAME, AND ONE WRESTLING MATCH
(2022-01-10)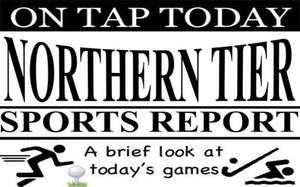 Northern Tier Sports Report
Three hoops games, and one wrestling match slated for today.
BOYS' BASKETBALL
Montgomery (3-4) at Canton (6-3) 7:30 p.m.: The Warriors are riding a 3-game win streak, including a big win over CV over the weekend that saw Isaiah Niemczyk net 35 points. The Raiders have lost three out of their last four games.
Troy (6-1) at Warrior Run (1-7), 7:30 p.m.: The Trojans are riding high following their win over Wellsboro last week, and they start a busy week by taking a long trip down south to Warriors. The Defenders won their season opener, but have lost every game since.
GIRLS' BASKETBALL
Athens (5-2) at Wyalusing (2-5), 7:30 p.m.: The Rams have lost three straight, but they've been tough battles. They'll host Athens, who they've had success against at home the past two years, with the Wildcats recently pulling out a win over Wellsboro.
WRESTLING
NEB (0-9) at Troy (2-2), 7 p.m.: The Trojans wrestled just once last week, but will kick-off a busy week by hosting the Panthers. NEB is coming off a strong showing at the South Williamsport Tournament.