NTL WRESTLING: TOWANDA BLANKS NEB
(2022-01-11)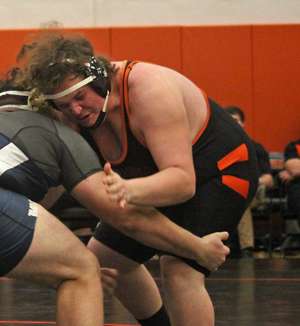 Northern Tier Sports Report
TOWANDA — Towanda defeated Northeast Bradford 78-0 in NTL wrestling on Tuesday.
Aiden Miller (189), Jared Gunther (285), and Wyatt Stranger (106) all had falls for the Knights, with JB Parker (113), Shane Atwood (120), Hayden Space (126), Rylee Sluyter (132), Riley Vanderpool (138), Sawyer Robinson (145), Jace Gunther (152), Mason Higley (160), Bryant Green (172), and Tim Parker (215) all getting forfeits.
The Knights will host Warrior Run on Thursday, with NEB welcoming Athens next Tuesday.
TOWANDA 78, NEB 0
113: JB Parker (T) fft
120: Shane Atwood (T) fft
126: Hayden Space (T) fft
132: Rylee Sluyter (T) fft
138: Riley Vanderpool (T) fft
145: Sawyer Robinson (T) fft
152: Jace Gunther (T) fft
160: Mason Higley (T) fft
172: Bryant Green (T) fft
189: Aiden Miller (T) fall Dominic Clark, 1:11
215: Tim Parker (T) fft
285: Jared Gunther (T) fall Kamden Ricci, 5:27
106: Wyatt Stranger (T) fall Kolton Keir, 1:13