NTL GIRLS' BASKETBALL: TROY USES A STRONG SECOND QUARTER TO PULL AWAY FROM NP-MANSFIELD
(2022-01-11)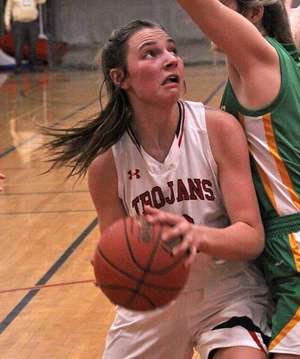 Northern Tier Sports Report
TROY — Troy jumped out to a 23-11 first half lead as they rolled past NP-Mansfield 38-21 in NTL Division-I girls' basketball action Tuesday.
Alyssa Parks had 13 points to lead the Trojans, with Rachel Kingsley adding 10. Kailyn Sterling netted five, Sydney Taylor notched four, while Katie Lackey, MaKenna Matthews, and Kendall Allen had two points a piece.
Ella Farrer led the Tigers with nine points.
It was close at the first horn as Troy led just 9-6, behind five points from Parks. In the second quarter, though, they out scored NPM 13-5 as five different Trojans found the basket, led, once again, by five points from Parks.
Down by 12 points, the Tigers tried to keep it close enough to make a comeback in the third, playing Troy even, 8-8, as they saw four players get a bucket.
However, in the fourth Troy held NPM to just two points, while Kingsley led the way with five, to secure the win.
This is Troy's sixth win in a row, as they host league power Athens on Thursday with a 7:30 p.m. start time.