ON TAP TODAY: PLENTY OF ACTION AROUND THE LEAGUE BETWEEN HOOPS AND WRESTLING
(2022-01-13)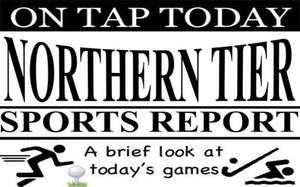 Northern Tier Sports Report
A busy day with five girls' hoops games, and two wrestling matches.
GIRLS' BASKETBALL
Sayre at Wyalusing, 6:30 p.m.: The Rams will play host to Sayre in a varsity only game. The Redskins are looking for their first win of the season, while Wyalusing is looking to end a 4-game skid.
Athens at Troy, 6:30 p.m.: The Trojans are riding a 6-game win streak as they host the Wildcats in a big NTL Division-I contest. Both teams are coming off wins over Wyalusing.
CV at Canton, 7 p.m.: The Warriors will be looking to pick up their second straight win as they host the Indians today. Canton is coming off a victory over NPL, while the Indians are looking for their first win.
Towanda at NP-Liberty, 7:30 p.m.: The Knights' west road trip continues with their straight game in Tioga County, this time traveling to the Mountaineers. Towanda had two big wins over Wellsboro and NP-Mansfield, with NPL riding a 2-game losing streak.
Williamson at NEB, 7:30 p.m.: The Panthers return home to host the Warriors in a divisional match-up. NEB are winners of six straight as they've dominated their division so far this year. It should be a good home atmosphere for the Panthers.
WRESTLING
Warrior Run at Towanda, 7 p.m.: The Knights welcome in the Defenders for a big non-league wrestling match. Both teams are coming off big wins - Towanda against NEB, and Warrior Run over Milton (57-15). This marks Towanda's last dual meet home match of the regular season.
Troy at Sayre, 7 p.m.: The Trojans are coming off a close loss to Wyalusing as they look to rebound against Sayre, before heading to the New Oxford Tournament. The Redskins recently took a loss against Canton as they search for their first dual meet win.