NTL GIRLS' BASKETBALL: CANTON USES BIG SECOND QUARTER TO PULL AWAY FROM CV
(2022-01-13)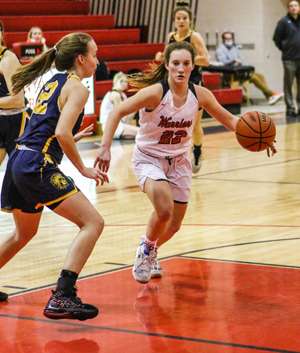 Northern Tier Sports Report
CANTON — After a close first quarter, Canton used a 20-2 run in the second quarter to beat CV, 47-21, in NTL Division-II girls' basketball action Thursday.
Aislyn Williams had 15 points, five assists, five steals, and three boards to lead the Warriors, as Kendall Kitchen netted 13 points, four rebounds, three assists, and two steals.
Emme Tymeson had 12 points, and four rebounds, with Molly Ward scoring five points to go with her 13 boards, three assists, and two steals.
Alexis Baldwin chipped in with two points, while Carolyn Thoren had five boards, four steals, and four blocks.
Canton led just 9-8 after the first quarter, behind four points from Tymeson. However, in the second they held the Indians to a single field goal, as Tymeson scored eight points, Williams had seven, and Kitchen netted five.
They pushed their advantage to 43-12 after the third quarter behind three 3-pointers, as Kitchen led the way with two.
Canton travels to Williamson next Tuesday.
PHOTO CAPTION: Canton's Kendall Kitchen drives to the basket…PHOTOS BY JOE CARREON