NTL GIRLS' BASKETBALL: NEB'S NEUBER SCORES 1,000TH POINT IN WIN OVER WILLIAMSON
(2022-01-14)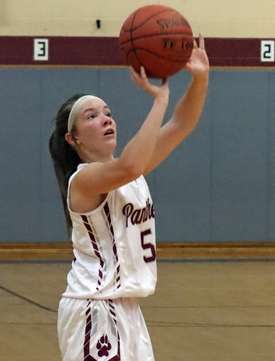 BY CHRIS MANNING
Northern Tier Sports Report
ROME — Northeast Bradford's Maisie Neuber started Thursday 17 points away from 1,000 for her career. As the game began, though, the question went from, could Neuber get it, to, was that the fastest 17 points she'd ever scored, as she hit the mark with 3:35 left in the opening quarter, during her team's 65-23 win over Williamson during NTL Division-II girls' basketball action Thursday.
"I think it might be," remarked Neuber. "I didn't even know I had that many, I was just playing my game, and it got crazy."
She might not had realized when she hit 1,000, but everyone else in the gym did, as it erupted once her lay-up went through the basket.
"It was definitely very emotional," Neuber explained. "It's an amazing accomplishment, especially for me. I've just been working toward this ever since I was a freshman. It's just insane for me to get this far."
And she did how'd she gotten most of her points during her 4-year career, turning defense and hustle into buckets, with four of her lay-ups coming off steals. However, she also showed off that jump shot she'd worked hard on improving, nailing a 3-ball early on in the game.
"I started just getting in the gym more working on my outside shot, and then I just grew, and I was able to work on my post moves more," said Neuber. "I was able to put everything together this year."
Hoops is a family affair for Neuber. She got a big hug from her father, Wayne Neuber, who is an assistant coach, as soon as she came to the bench, while her sister, Emma Neuber, is also on the team.
"It's amazing because I think she really looks up to me," Maisie said about having her sister on the team. "I hope it's something she can strive for in the future, and my other teammates can look up to me, as well."
Her coach Ben Beebe handed her a game ball to honor the scoring title.
"She earned that," Beebe said about Neuber. "She's the most unselfish player I've ever coached. She was possessed tonight. She wanted it, she knew she could get it."
Beebe was glad to see a packed gym turnout for Neuber's moment.
"We've had a great turnout for our girls program in recent years," he said. "And, to see this tonight, it's just awesome. We got a great community, and they love her."
Neuber finished with 29 points on the evening, and nabbed 11 steals to make it a double-double. She also had five rebounds, as well.
Kayleigh Thoman chipped in with 11 points, six steals, and four assists, as Kate O'Connor had seven points, and nine boards.
Lilah Hughes finished with six points, while Alena Beebe and Lillie Maynard had four points a piece. Maynard also dished out three assists.
Emma Neuber and Anna Towner rounded out the scoring with two points each.
Early on it was obvious it was going to be Maisie's night. She scored seven of her team's first nine points, all in a variety of ways - two freebies, a lay-up off a steal, and a 3-pointer - to put the Panthers up 9-0.
After the two teams traded buckets, Neuber got back to back lay-ups to make it 15-2, and cutting her deficit down to six points.
On Neuber's next basket she got an assist from Thoman, but the final two buckets were all Neuber - both steals and lay-ups to get the milestone.
She finished with 19 for the quarter as NEB built a 26-5 opening quarter lead. From there they never looked back.
Despite all the success she's had individually this year, Neuber believes it's her teammates as to why she's at where she's at.
"I couldn't do anything without the teammates I have," she said. "Everyone's so unselfish, and really supportive, and I just love them all."
PHOTO CAPTION: NEB's Maisie Neuber lays in her 1,000th career point…PHOTOS BY CHRIS MANNING