NTL BASEBALL: CANTON ROLLS TO WIN OVER WILLIAMSON, QUALIFIES FOR DISTRICTS
(2022-05-09)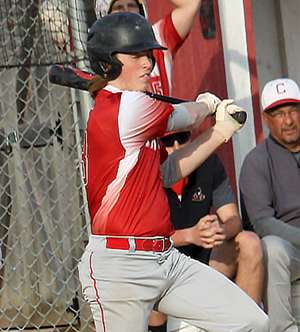 Northern Tier Sports Report
TIOGA JUNCTION — Canton used a pair of 3-run innings to down Williamson 7-3 during NTL baseball action Monday.
The win secures them a spot in the District IV, Class AA playoffs.
They did this in spite of eight errors that they had in the game, scoring three in the first inning, three in the fifth, and adding another insurance run in the sixth. Williamson had runs in the first, third, and fifth.
Cooper Kitchen (3-for-4) led Canton, with two runs scored, and an RBI, while Holden Ward (2-for-3) scored twice, and Gavin Morse (2-for-4) knocked in four runs.
Weston Bellows (1-for-4) had two runs, and 2-RBI, with Leo Karpinski scoring a run.
All told, the top four of Canton's order went 8-for-15.
Kitchen started, and went four innings for the win, striking out four with one walk, four hits, and two unearned runs.
Holden Ward went the final three innings, striking out two with two hits, and one unearned run.
In the top of the first Ward led off with a single, followed by Kitchen reaching on an error. Bellows then singled in Ward, followed by Morse hitting in Kitchen and Bellows for the 3-0 lead.
Canton added three more runs in the fifth, as Ward drew a 1-out walk, followed by Kitchen singling. An error off the bat of Bellows scored Ward, setting up Morse's 2-run single to make it 6-2 Canton.
Canton's final run came as a bases loaded single from Kitchen scored Ward for the 7-3 final in the sixth.
Canton (10-7) will travel to Towanda on Wednesday.