COLLEGE: TROY GRAD SEYMOUR TAKES BIG STEP, LOOKS TO GO FURTHER NEXT SEASON
(2022-07-19)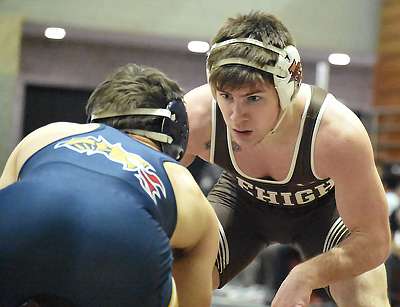 BY CHRIS MANNING
Northern Tier Sports Report
Troy's Sheldon Seymour just completed his second year as a wrestler at Lehigh, and his career took a big jump by the end of the season.
He stepped into the Hawks' line-up at 125 late, and came into the EIWA tournament as the bottom seed. No matter, as he won four matches, and finished sixth, just one win away from being a national qualifier.
"It felt good knowing that I'm right there," said Seymour. "I came in the last seed, and I knew I had to battle to get to the top four, and I came one match short - it was both great and sucked at the same time."
Seymour opened the tournament with a fall, but then lost to the top seed 8-2 in the quarterfinals. He then picked up consolation bracket wins of 14-4 and 5-4 to get the consolation quarterfinals. Once there he won an 18-3 technical fall victory in 6:21 to put himself one win away from nationals.
In the consolation semifinals he lost just 3-2, despite injuring himself.
"I left it all out there during that match, and I never quit, even after hearing a pop in my knee, I still knew I needed to get a takedown," said Seymour. "I ultimately wasn't able to get one, and I knew it was going to be a long shot for a bid, so it was fun getting to compete for my team, and trying to qualify, but the end result didn't go my way."
Finishing the way he did just fuels Seymour to heal up and get ready for next winter.
"It gives me so much confidence, and gives me the extra fuel going forward," he said. "After coming so close, I want it even more now. Getting that close really put into perspective what it is going to take to get there, and then even more to be an All-American."
Three of those wins were with bonus points, and helped Lehigh to a fourth place finish at the tournament. He had a few of those type of wins during the season, too.
"It's so much fun being able to get those bonus points," said Seymour. "It gets the crowd into it, and, more importantly, fuels my teammates. We feed off each other, and when one person has success like that, it just makes you want to follow that up with something better."
First things first, though, Seymour is working on getting his knee healthy after tearing is MCL. It's recently healed, but he's still being cautious at this point.
"I'm working on certain positions, getting better in areas of need, and just strengthening my knee," remarked Seymour.
That wasn't the only success Seymour had this year, as he took fourth at the Illinois Matmen Open in December at 125 pounds, while also filling in during dual meets, sometimes up a weight class at 133.
"It was both fun and frustrating," Seymour said about bouncing around between 125 and 133. "The fun part was I got to go out and compete to help my team, and just do what I can to help the team. I got to wrestle two NCAA finalists at two different weights, which was pretty cool getting my hands on them. On the other hand, it was frustrating because some of the matches it was a close match, but I was just a bit undersized, so it made everything much harder."
Seymour went 2-6 during dual meets on the year, but finished with a 15-11 overall record. Seymour is no stranger to bumping up - he did it plenty of times in high school - but college is a different beast altogether.
"It's like a whole new world bumping up a weight class in college compared to high school," he said. "In college, the majority of the guys are cutting 10-plus pounds, so by the time I would go out and wrestling, they would be 10-15 pounds heavier than I was. In high school you may bump up, but you're only giving up around five pounds. And the styles are much different when you bump up weight classes in college compared to high school."
This was a lot different than his freshman year, when Covid-19 restrictions gave him a late start, and made it tough to train during the season.
"We were able to come in during the summer, and train compared to last year, when we couldn't do that," said Seymour. "We were able to go the whole year without having to shut down for two weeks so our team chemistry was higher, as we we were able to just be around each other more."
Ultimately, this year proved to Seymour that he could wrestle at this level.
"It took some of the pressure away knowing that I belong here, and that I can compete with whoever my opponent is," he said. "My confidence started to grow a lot more as I kept winning more matches, and, even though I ended the year one place short, I was still feeling really good about how I competed this year."
It also moves him one step closer to where he wants to be.
"My ultimate goal is to be an NCAA champion, but, for this year, I want to compete as much as I can, get my hands on as many guys as I can that will help my wrestling, and just keep my grades up," said Seymour.