TOWANDA'S MANCHESTER ENJOYING TIME WITH FUSION
(2022-07-26)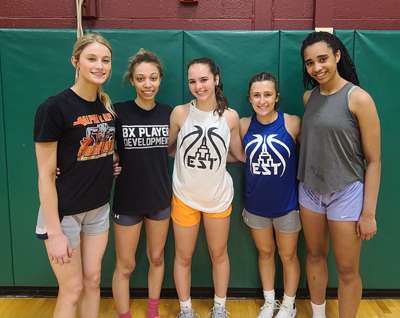 BY BRIAN FEES
The Sports Reports
This past high school season was one for the books for Edison's Payton Littlefield and her teammates.
The Spartans won their first sectional game in two decades and were among the better teams in the IAC all season.
So, do the players rest on their laurels in the offseason? Nope, they get back to work, with three of them among the players taking the court for the Elmira Fusion over this summer.
"I am so excited, these are my favorite group of girls to play basketball with," Littlefield said.
Littlefield has played for the Fusion for years, but this year she's on a team with a couple of her high school teammates — Gianna McGee and Harper Hoffman.
"It's great to be able to bring Gianna and Harper because I was alone without anyone from my high school team, so it's great to have someone else on the team," Littlefield said.
A STAR FROM ACROSS THE BORDER
While many of the Fusion players come from across New York, Manchester plays high school ball across the border in Pennsylvania for the Towanda Black Knights.
For Manchester it's special being a part of the Fusion.
"It's great, it challenges me more," Manchester said. "I know I have to work a lot harder because it's a completely different place, it's tougher challenges."
On such a talented team Manchester knows that it's not just about scoring points, that everyone has to find their way to contribute.
"It's great, because we will just work tougher," Manchester said. "We don't all focus on points, we just want to help each other out and work as a team."
And, having such a strong team opens things up for everyone.
"It's great, it opens up everyone to new things," Manchester said. "You can do the regular things in the game rather than having two people on you."
It's special for Manchester to join all the New York girls with the Fusion.
"It's fun, they are my best friends, I've been playing with them for a while, it's just easy with them," Manchester said.
As Manchester heads into her senior year at Towanda she is looking at her options for college as well.
"I am still looking, just trying to see what my options are and look and see what school is best for me for my academic and athletic future," Manchester said.
The senior-to-be knows that this AAU season is an important one.
"It's pretty big, all the other AAU seasons were pretty big, too, but this is my last chance to do it, so I might as well go out hard."
Manchester has tried to not to let college coaches watching games get to her.
"You really just have to play your own game and not focus on the coaches," Manchester said. "You have to realize they are there, and watching and evaluating you, but you kind of just have to play your game because that's what they want you to do."
It has been a busy summer for Manchester, playing for the Fusion and also working with many of her high school teammates, who are playing in the Elmira College Summer League and also have played in some tournaments over the summer.
"I think about five days a week I'm playing basketball, but it's fun," Manchester said. "I'm just working more with my teammates, working with them to get them to do what Porschia (Bennett) did, running up the court so you can throw them a basketball pass or just working with them and working together with them."
SPARTANS WELL REPRESENTED ON TEAM
For Littlefield it's fun having teammates on the Fusion with her, but it's also nice to be able to play with kids from other teams.
"It's great, it's a good experience to get to play with kids I'm not used to and work and see their styles of basketball," Littlefield said.
It's also a big help having some of her high school teammates on the Fusion with her so she can spend more time with them.
"It's going to be great for next high school season, because we are going to have so much practice together and get to know each other's sales so much more," Littlefield said.
With the Spartans teams key on Littlefield as she is the primary scorer, with the Fusion she gets a chance to play other roles and expand her game.
"It's awesome because I can play different ways and grow my game," Littlefield said.
Basketball season was a lot of fun for Littlefield this year.
"It was so memorable for me because we have had some rough seasons in the past and we worked very hard to get to where we are today," Littlefield said.
"It shows when we work hard we can achieve good things together and learn and grow together. Having such a successful high school season, I think really motivated everybody to get better and to keep growing next year."
As Littlefield heads into her junior year, she knows that her time with the Fusion only helps put her name out there for colleges.
"It definitely does because I know I'm getting my name out there, but it's definitely nerve-wracking to," Littlefield said of having college watching her play.
One of the fun parts of playing with the Fusion is having players like Newark Valley's Cha Gardner, who plays against Littlefield in the IAC, as a teammate.
"I love playing with Cha, she's one of my absolute favorite people to play with," Littlefield said. "It's great because our team uses her for an advantage.
"She's a great player and I'm so lucky to be able to play with her."
ABRAMS RUNS THE SHOW
In the high school season Abrams plays faces off against many of the Fusion players. But, in the AAU season they become her teammates.
"I'm very excited, they are like my family," Abrams said.
The Elmira standout has some of her teammates on the roster, like Ellie Clearwater, but she has one other person on the team as well, her dad serving as one of the coaches.
"It can be a struggle," Abrams said of having her dad coach her. "But, we are really cool with each other, I've bee playing for him since I was like five."
The challenge is that Jeremy Abrams knows what his daughter is capable of, and she knows that he wants the best for her on the court.
"Very high (expectations)," Jalea Abrams said. "He just wants what's best for me."
For Abrams, this summer is crucial as she heads into her senior year and is looking at colleges.
"It's very important, I've been pushing myself like crazy just to accomplish my goals," she said. "I have been trying really hard, it's all I've been working on."
It's fun for Abrams to be with her AAU teammates in the summer.
"It's very exciting, they are like my family," she said.
Having such talented teammates takes a lot of pressure off of Abrams' shoulders.
"They make it a lot easier, they even help me get open shots," Abrams said.
And, having some of these girls as teammates, instead of opponents, is a lot of fun.
"It's real nice not having to worry about getting my shot blocked by them," Abrams said.
While Abrams was an all-state player last year, she still has plenty of things she wants to work on.
"Definitely my ball handling and communication," she said. "I think my defense is good, but I'm trying to up it more because that's what coaches like to see."
Last year didn't end the way Abrams wanted for the Elmira Express as they fell to Corning in the sectional final. After that loss it was right back to working hard for Abrams.
"It pushes me so hard, not even just for AAU, but coming back for high school, I'm so prepared already," she said. "I left that gym (after the sectional final) so fast, it kept replaying in my mind."
For Abrams there wasn't any way to change what happened, but she could work to make sure it didn't happen again.
"I was ready for AAU, I was like best I can do now is keep working," Abrams said. "Wins and losses, it just shows us what we need to improve on, so our mindset has to be even higher than what it was before."
For Abrams as she gets older she sees teams key on her more and more, but now she's getting more used to it.
"Honestly, at this point I think I'm more calm with it," she said. "Because usually I would lose my mind when people face guard me, but I'm beginning to be calm and relaxed and just play my game."
Next year will be different for Abrams with the seniors on Elmira's team gone, but she knows she has learned a lot from them and continues to learn from them.
"I'm really going to miss our seniors," she said. "It's kind of hard, but at the same time when I'm not at AAU practice I'm with Megan (Fedor) on the court at Broadway shooting. I'm with her all the time."
And, this summer with the Fusion, and next year, Abrams has Ellie Clearwater with her, after Clearwater missed a lot of last year with an injury.
"It's great, I missed her, she's an amazing shooter," Abrams said. "I think it's going to improve us so much, we have another shooter on the court which makes it so much better."
A DOMINANT FORCE IN THE PAINT
Last year was a big year for the Newark Valley girls basketball team as they made it to the state final.
This summer, rising junior Cha Gardner went right back to work, looking to keep improving.
"I feel like I am going harder and pushing myself more than I ever have before," Gardner said.
This is a big year for Gardner, as she heads into her junior year, and the six-foot, 3-inch center knows that colleges are going to be watching her.
"I've noticed more coaches showing up to our games, but that just means I can show them more what I can do," she said.
With her size Gardner sees a lot of teams key on her inside, but as her teammates start to make plays she gets more and more chances to play people one on one.
"We start off and I get triple teamed, but once my team makes a few shots it goes back to man and man," she said.
A lot of athletes may be able to avoid the double and triple teams with the Fusion because of how talented the team is, but they face it all high school season. For Gardner, she was on such a talented Newark Valley team that she often got one-on-one matchups in the high school season as well.
"100% in Newark Valley we had to know how to play one vs. one because you didn't know who was going to get double teamed that day," Gardner said.
One thing with the Fusion for Gardner is playing with people like Littlefield, instead of in the same league against her and the other players on her Fusion team.
"It's so much better than playing against them," Gardner said. "It's great, they are all so nice."
And, coming from a smaller school like Newark Valley, the Fusion gives Gardner a chance to play with girls from bigger schools.
"It's crazy, because sometimes they are faster, they are a bigger school," Gardner said. "It's just new people to play with and against."
Gardner has worked hard to get herself noticed by college coaches.
"I am really pushing myself to get myself out there," she said.
And, it helps having older players, like Abrams, going through the recruiting process as well.
"It's great, because she's someone I can look up to and ask questions to if I have any," Gardner said.
Playing with the best players from teams throughout Section 4 helps Gardner play her game at the highest level with the Fusion.
It's so much easier, and it's just great because they all know what they are doing and ware playing at a higher level and we are all getting so much better," Gardner said.
For Gardner one of the keys this summer is building confidence particularly on offense. For Newark Valley she was a defensive force, but with so many talented upperclassmen she didn't have to be one of the team's leading scorers. Next year she knows she'll have to take on a bigger role offensively.
"Right now it's more confidence and little more shooting outside the paint," Gardner said. "On that team (Newark Valley) I didn't feel like I needed to be selfish, more just play with each other and have fun and now I'm having to adjust to being a little more selfish.
"I am trying to not make that extra pass and just go up with the easy shot."
For Gardner, it's something tough to learn at times. She's always learned to be a team first player, but with her size, she is starting to realize the best play for the team is to put up the shot in the paint over smaller players rather than kick it back out for a long-range jumper.
"It's super hard, I got yelled at a few times (for passing on a shot), you just have to stop thinking and go with your instincts," Gardner said.
TAKING A STEP UP
In high school Sophia Bonnell will have a big role for Horseheads.
One of the team's top players this past season she is the top returning scorer for the Blue Raiders heading into her junior year.
This summer Bonnell was up with the older Fusion team.
"It's pretty special because I've been playing against all of them (her Fusion teammates) for school ball," Bonnell said.
And, being on the Fusion gives Bonnell a chance to play with players like Abrams, of Elmira, instead of against her.
"It's definitely a lot better to have her on my team instead of playing against her," Bonnell said.
It's a bit of an adjustment for Bonnell to go from being one of the leading scorers on her high school team, to taking on different roles with the Fusion.
"It's a little bit different adjusting from school ball to here because I take on a different role on this team than I do in high school ball," Bonnell said. "Not being the number one option, going from school to here is different, but it's good practice."
With the Fusion Bonnell doesn't have to be the go-to scorer on offense.
"I know I don't have to be the primary scorer and I know if my shot is not falling maybe one of my teammates are," Bonnell said.
There are things that the junior-to-be is working on with her game this summer.
"Just dribble driving and shot selection and knowing when to shoot and when not to," Bonnell said.
The work is something Bonnell hopes will help her next season with the Blue Raiders. Bonnell knows that next year she'll have a big role for the Blue Raiders.
"It is a little bit (of pressure), but we have a lot of new people coming up who I think will do good and it will be their time to shine to, but there definitely is a little pressure," Bonnell said.
The Horseheads standout learned a lot watching her former teammate Carly Scott the past couple years and she knows it will be different not having her around next year.
"It was good, I loved playing with her and I loved watching her play before playing with her," Bonnell said. "It will be different next year."
With the Fusion it's different playing with some people she plays against in high school ball, but bonnet loves being part of such a good team.
"It's a little different, but it's somewhat the same because I've known them (the players on the team) for a while," Bonnell said. "They're very dependable and I trust I can get them the ball and they can get it to me."
Being in the older age group of AAU means a lot of tough competition.
"It's definitely pretty competitive, the teams we are playing (are tough) since we are playing up, so they are more competitive," Bonnell said. "(This team is) making me a better player and teaching me a lot about basketball."
——
IN PHOTO: From left: Towanda's Paige Manchester, Elmira's Jalea Abrams, Edison's Payton Littllefield, Horseheads' Sophia Bonnell and Newark Valley's Cha Gardner. PHOTO BY BRIAN FEES