LITTLE LEAGUE: ASTON-MIDDLETOWN EARNS WALK-OFF WIN OVER EAST SIDE TO NAB STATE TITLE
(2022-07-29)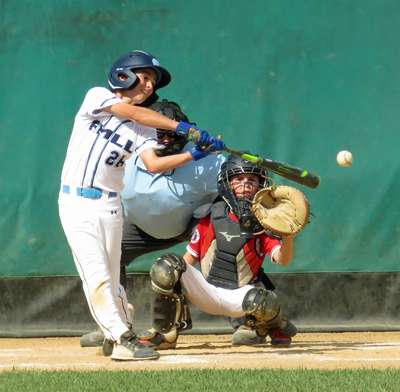 BY CHRIS MANNING
Northern Tier Sports Report
ATHENS
-
It was a finish for the ages, as Aston-Middletown's Joey Thompson drove in Luke Williams for the walk-off 2-1 win over East Side during the 11u PA State Championship title game Friday.
Aston-Middletown came all the way back from losing their tournament opener, winning six straight to come back and capture the title. They'll now head to Massachusetts for Regionals.
The game was scoreless through four innings when East Side finally broke through with a run in the top of the fifth. Then, in the bottom of the sixth, Aston-Middletown scored two to get the win.
Thompson went 3-for-4 for Aston-Middletown, while Shaun Barry had a double, and scored the tying run in the bottom of the sixth. Antonio Giangroce, Austin Younger and Hunter Kass all went 1-for-3, while Kass had the game tying RBI.
Michael Timko led East Side by going 2-for-3 while Jack Blane went 1-for-2. Chas Moyer scored the go ahead run, running for Mason Canuso, who drew a walk.
Aston-Middletown threatened in the first, third, and fourth innings. The third, in particular, they nearly scored, but East Side was able to get a close out at the plate to keep it tied at 0-0.
In the fifth East Side saw Canuso lead off with a walk, as Moyer came in to run for him. He would score on a 2-out fielder's choice off the bat of Callum Stoltzfus to put them up 1-0.
East Side held Aston-Middletown down in the bottom half of the inning, but in the sixth Barry led things off with a double. Brayden Myers then drew a walk, followed by Logan Mast getting hit by a pitch to load the bases.
Kass then had a hard line-drive to left field that drove in Barry, knotting the game up at 1-1.
After East Side got a pop out, Thompson then had the game winning single, followed by the celebration at home plate.
PHOTO CAPTION: Aston-Middletown's Joey Thompson hits the game winning single…PHOTOS BY CHRIS MANNING