NTL BOYS' SOCCER: TROY FALLS TO SULLIVAN COUNTY
(2022-09-19)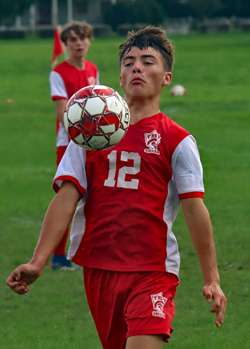 Northern Tier Sports Report
EAST TROY — Troy fell to Sullivan County 8-0 during non-league boys' soccer action Monday.
Rocky Finnegan had a hat trick to lead the Griffins.
Sullivan had a 24-2 edge in shots, and 7-2 edge in corner kicks. Eli Randall made 11 saves in net for the Trojans.
Troy travels to Towanda on Wednesday with a 4 p.m. start.
— —
PHOTO CAPTION: Troy's Hart Houseknecht plays the ball off his chest…PHOTOS BY CHRIS MANNING