NTL BOYS' SOCCER: TOWANDA DROPS 2-1 MATCH TO MONTGOMERY
(2022-09-19)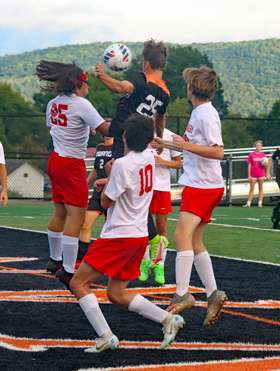 Northern Tier Sports Report
TOWANDA — Towanda lost a heartbreaking 2-1 decision to Montgomery during non-league boys' soccer action Monday.
The Knights led 1-0 at the half off a Nate West header on a Jack Wheaton corner kick, as they had the edge in possession.
The Red Raiders rallied with two goals in the second half, though, to nab the win.
Michael West had 15 saves in net for Towanda.
The Knights host Troy on Wednesday with a 4 p.m. start.
— —
PHOTO CAPTION: Towanda's Nate West heads the ball in for a goal…PHOTOS BY CHRIS MANNING