NTL VOLLEYBALL: TOWANDA'S RALLY COMES UP SHORT AGAINST WELLSBORO
(2022-09-19)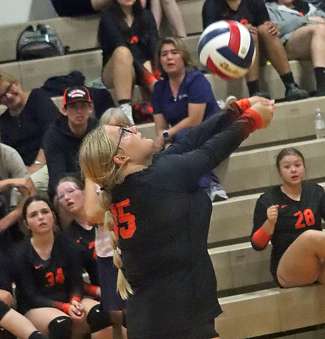 Northern Tier Sports Report
WELLSBORO — Towanda rallied but ultimately came up short in a 3-2 loss to Wellsboro during NTL volleyball action Monday.
The Hornets took the firs two 25-19 and 25-20, but Towanda came back to win the next two sets 25-23 and 25-21, to force a deciding set.
In the fifth Wellsboro eked out a 15-9 win to take the match.
Addie Maynard had 15 points and 11 digs for Towanda, while Brynn Woodruff finished with 15 points, two kills, two blocks, and four digs.
Paige Manchester had nine kills, four blocks, and six points, as Brea Overpeck notched five points, eight kills, eight assists, and three digs. Shaylee Greenland added six points, nine digs, three assists, and three kills, as Winter Saxer had six points, two kills, two blocks, and five digs.
Wellsboro won the JV match in three sets, 25-14, 15-25, and 18-16. Brooklyn Evans had eight points, six kills, and three assists for Towanda.
The Knights will turn around and travel to NEB on Tuesday.