NTL GIRLS' SOCCER: WYALUSING'S HALEY, NEB'S SHUMWAY LEAD THE BRADFORD COUNTY ALL-STARS
(2022-11-23)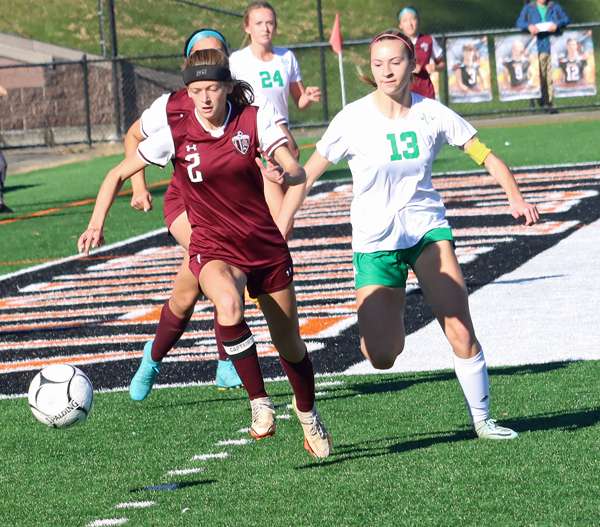 Northern Tier Sports Report
It was an exciting season for Bradford County girls' soccer teams, and the Bradford County All-Stars reflects that.
There are Co-Players of the Year as Wyalusing's Olivia Haley and NEB's Melanie Shumway share the award. Haley was one of the fiercest strikers in the districts, leading her team to several big wins, and the program's first district victory. Shumway played wherever her team needed her - from forward, to midfield, to defense - and helped NEB to their best season in program history.
The next three awards would go to Troy players, with Addi Parker the Offensive Player of the Year. She led the fearsome Troy attack, which scored in every game during the regular season.
Caelyn Pine is the Defensive Player of the Year. She went toe to toe with several of league's top strikers as she helped a new Trojan backline.
Saydi Renzo burst onto the scene with a scoring spree for Troy, and is the Newcomer of the Year.
NEB coach Josh Thoman and his staff are the Coaching Staff of the Year for leading the Panthers to a historically good season.
The first team consists of Haley, Shumway, Parker, Pine, and Troy's Camille McRoberts, Wyalusing's Layla Botts, NEB's Kayleigh Thoman, and Athens' Ally Thoman, Mya Thompson, Addi Wheeler, and Karlee Bartlow (goalie).
On the second team are Troy's Renzo, Chloe Swain, Maddie Palmer, and Alexis McRoberts, NEB's Lani Thomas, Keirra Thoman, and Leah Beebe (goalie), Towanda's Anna Dunn, Kathryn Dunn, and Bella Hurley, and Wyalusing's Sydney Friedlander and Annamary Slocum.
The All-Newcomers team are Renzo and Alexis McRoberts from Troy, Beebe and Elizabeth Gorsline from NEB, Addisyn Bly and Treanna Nickeson from Wyalusing, Kennedy Heyer and Clara Glantz from Towanda, and Kate Sutton and EJ Denlinger from Athens.