LATE RALLY BY SULLIVAN COUNTY COMES UP SHORT AGAINST NEUMANN
(2023-01-20)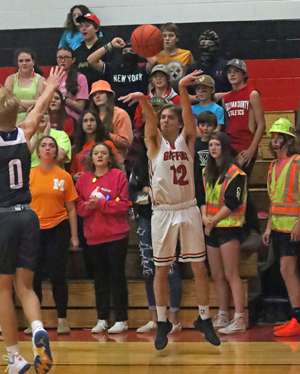 Northern Tier Sports Report
LAPORTE — Sullivan County rallied in the fourth quarter, but couldn't complete the comeback in their 78-65 loss to St. Jon Neumann during Mid-Penn boys' basketball action Friday.
Davion Hill had 32 points through three quarters for Neumann, as they built a 57-40 lead. However, he fouled out, giving the Griffins an opportunity. They scored 25 points in the fourth, but couldn't slow down Neumann.
Riley King had 24 points to lead Sullivan, as Ben Carpenter finished with 16. Trey Higley netted 18, Derrick Finnegan added five, and Landon Baldwin scored two.
Sullivan led 16-15 after the first quarter behind five from Finnegan and Carpenter. Neumann would out score them 18-9 in the second behind 11 from Hill to take a 33-25 lead at the break.
Neumann then came out of the halftime strong, erupting for 29 points as Hill had 13 and Jozef Savage added nine, push their lead to 17-points.
In the final frame King went off for 13 points - including two 3-balls - while Carpenter added eight before fouling out.
However, Neumann was good enough from the free throw line - 9-for-15 - to secure the win.
Sullivan will travel to Montgomery on Tuesday.