ON TAP FOR TODAY: A FULL SLATE OF GIRLS' BASKETBALL TO GO WITH RIVALRY WRESTLING
(2021-01-21)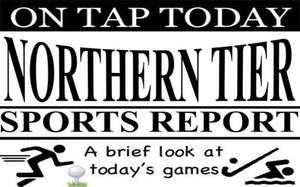 Northern Tier Sports Report
A full slate of girls' basketball, along with a rivalry wrestling match, highlight Thursday's action.
GIRLS' BASKETBALL
NP-Mansfield (0-2) at NEB (4-2), 6 p.m.: The Panthers welcome former division rivals NPM with a varsity only game. The Tigers are coming off a loss to Athens while NEB defeated NPL in their last game.
Towanda (4-0) at CV (1-3), 6 p.m.: Towanda will take their undefeated record out to Westfield for this cross-over game. The Knights are coming off back to back wins earlier this week against NEB and Troy while CV edged Williamson for their first win on Monday.
Troy (1-3) at Canton (3-1), 6 p.m.: The NTL Division-II leading Lady Warriors will welcome their rivals for a cross-over contest. Canton is coming off a win over Williamson while Troy lost to Towanda to start their week.
Wyalusing (2-1) at NPL (0-2), 6 p.m.: A Hailey Jayne 3-pointer gave the Rams a 1-point win over Wellsboro on Tuesday while the Mounties are coming off a loss to NEB.
WRESTLING
Canton (6-0) at Troy (2-2), 7 p.m.: The Warriors put their undefeated wrestling record on the line in this big NTL match-up. Canton is coming off a win over Towanda on Tuesday to improve to 3-0 in the league. Troy went 1-2 at Towanda's Flynn Duals last weekend while their match with Williamson on Tuesday was cancelled.
NEB (0-3) at Athens (5-3), with Sayre (0-5), 6 p.m.: The Panthers have double the action on Thursday with back to back duals. They're coming off a double dual last weekend where they went 0-2. Athens defeated Wyalusing for the first time in 12 years on Tuesday while Sayre is also looking for their first win of the season.