NTL GIRLS' BASKETBALL: BARRETT, MANCHESTER LEAD TOWANDA PAST CV
(2021-01-21)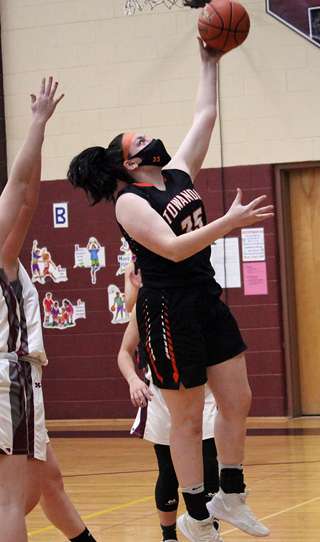 Northern Tier Sports Report
WESTFIELD — Towanda's Erin Barrett broke through with her first big game of the season, scoring 18 points to go with eight boards and two blocks, as the Knights beat CV 55-19 in NTL girls' basketball action Thursday.
The win pushes Towanda to 5-0 on the season.
Paige Manchester added 19 points, four boards, three assists and three steals with Aziza Ismailova netting five points.
Porschia Bennett and Bella Hurley had four points apiece, with Bennett adding six boards, five assists and four steals.
Amanda Horton had three points with Athena Chacona netting two points to go with four boards.
Towanda jumped out early as as Manchester (11 points) and Barrett (eight points) led the Knights to a 21-6 first quarter lead.
Barrett continued her strong play in the second, scoring eight more points, push the advantage to 35-13 at the half.
Towanda led with their defense in the second half, holding CV to six points.
Abby Ackley and Renee Abbot had eight points to lead the Indians.
Towanda will host Montoursville on Saturday with a 1:30 p.m. start.