NTL BOYS' BASKETBALL: TROY NEARLY UPSETS WILLIAMSPORT ON THE ROAD
(2021-01-23)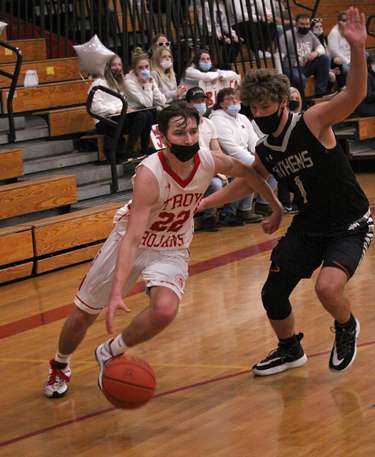 Northern Tier Sports Report
WILLIAMSPORT — Troy gave Williamsport everything they could handle in their 70-64 loss to the Millionaires during non-league boys' basketball action Saturday.
Ty Barrett went off for 35 points, 18 of them in the fourth quarter, against the 6-A Class school. He also had a team high four 3-pointers.
Ethan VanNoy finished with nine points as Jake Deitrick scored eight. Nick Williams netted five, Mason Imbt had four and Zeb Oldroyd notched three.
The Trojans had eight 3-pointers in the game to Williamsport's one as James Evans McQuay led the way for the Millionaires with 19 points.
Williamsport was able to live at the line, getting 25 free throws, though they only made 15 of them. The Trojans were 8-for-13 from the charity stripe.
The two teams traded leads early with Williamsport up 16-13 at one point only for Troy to rally and take a 21-18 lead after the first quarter.
There were a total of 10 lead changes in the first half as Williamsport led 30-29 at the break.
The Millionaires opened things up some in the third quarter as their defensive pressure began to yield turnovers from the Trojans. Troy kept it a 47-41 lead after three quarters but midway through the fourth Williamsport extended their advantage to 59-48.
A Barrett 3-pointer cut it to 65-59 with two minutes to go but the Millionaires were able to keep them at bay down the stretch.
Troy (5-1) returns to NTL play as they host NP-Mansfield at home on Monday with a 6 p.m. start.