NTL GIRLS' BASKETBALL: A SEASON TO REMEMBER FOR LADY KNIGHTS
(2021-04-02)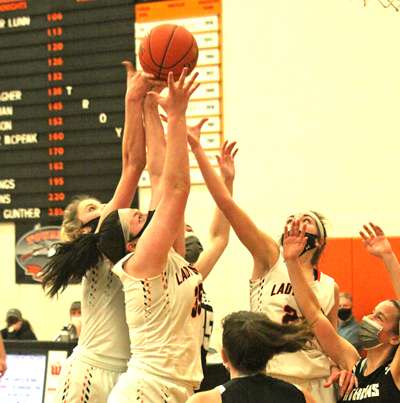 Northern Tier Sports Report
The year was just about as perfect as it could get for the Towanda girls' basketball team. They swept the NTL to win their second straight Division-I championship, earned two district home games, and only suffered two losses - a bad day at Sullivan County and a bad third quarter against Loyalsock in the playoff semifinals.
But it wasn't quite perfect.
"We were very proud of what we accomplished in very trying circumstances," said first year coach Rob Gentile. "Back-to-back NTL titles, and going undefeated in league play is nothing to shake a stick at, but we still feel we left a little on the table. Obviously, we were shooting for a district title, and we knew that wouldn't come easy with two of the top teams in all of District IV, regardless of class, in the way of that. The loss to Loyalsock stung quite a bit, and I'm not sure any of us are over it yet, but that is reality. We lost to a really, really good team, but we competed like crazy! At the end of the day, that's all you can ask of yourself, and we are very proud of that."
Towanda started the year 11-0, then went 8-0 before their next loss. Their only two close wins during the regular season were to rival Athens, but they swept the season series with them, NEB, Wyalusing, Wellsboro and Troy - all playoff teams.
They went 2-1 in non-league games - a bugaboo from last season - with their two wins by double-digits.
They boasted one of the biggest line-ups you'll ever see in small school basketball, let alone just the NTL, with the ability to man all five positions with 6-footers if need be. Their press defense was suffocating, and made them a fearsome transition team. And in the half court they had enough slashers, shooters and post players to keep teams honest.
Everything started with sophomore point guard Paige Manchester, who was named the NTL Player of the Year as she put up 16.5 points per game and passed off five assists per game.
Her back court mate was Porschia Bennett, one of the longest and most athletic guards in the districts. Down low Erin Barrett provided scoring, rebounding (leading the team), and a spark whenever they needed it.
Their starting five was rounded by shooter Amanda Horton and dirty work forward Ally Hurley. They boasted one of the deepest benches as Saige Greenland, Bella Hurley, Kenadie Packard and Grace Schoonover all slid into their roles when they were on the court.
Last year they skirted out a league title, needing to win the final game, this year they dominated the competition.
"We are now going to use that as fuel, and hopefully these younger kids will understand the preparation and the work it will take to get to where we want to be," said Gentile. "We lose five key members of our team in seniors Erin Barrett, Ally Hurley, Saige Greenland, Kenadie Packard, and Amanda Horton, that impacted our team in a lot of ways, and it's not going to be easy to replace them. But we have the kids that are more than ready to step in and give what they have. Everyone knows our varsity team was 19-2, but what many don't realize is we were 14-2 in JV games as well, and many of those kids that played in JV games provided quality varsity minutes, and were key contributors to that 19-2 record."
Manchester, Bella Hurley and Schoonover are all sophomores, showing that, for at least the next two years, the Division-I title likely goes through Towanda.
"The future looks bright, and we are excited to do what is necessary to take that next step," said Gentile.